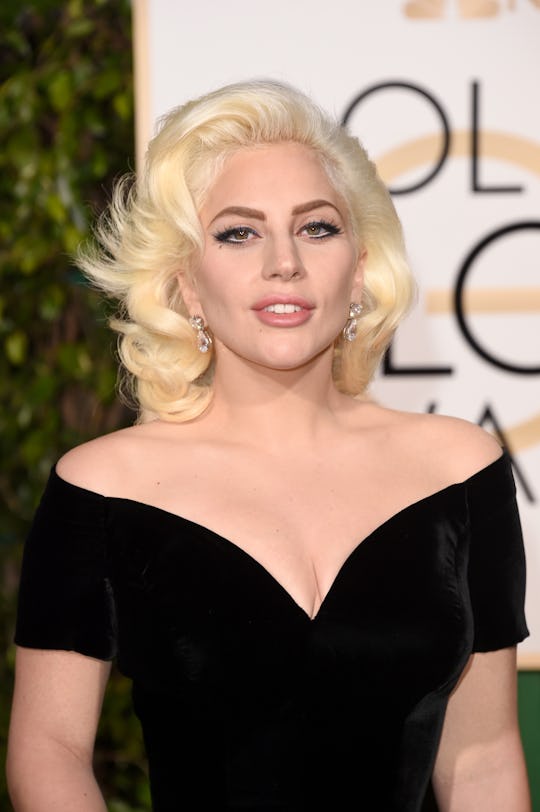 Jason Merritt/Getty
Leonardo DiCaprio Says Lady Gaga's Brush-By Was Accidental, Even If That Viral GIF Suggests Otherwise
It was the Golden Globes gaffe that GIF dreams are made of: on her way to accept her award for Best Performance by an Actress in a Limited Series or Motion Picture Made for Television at the Golden Globes on Sunday, Lady Gaga brushed past a laughing Leonardo DiCaprio, and his shocked reaction was supposedly proof of a beef existing between the two stars. But a report from the Mirror suggests the truth was far less scandalous — DiCaprio explained to Gaga afterward that he'd been drinking, and that he definitely wasn't throwing shade, as he didn't even realize who was pushing past him. The two stars also reportedly partied together after the show, putting any rumors of a rift to rest.
Even though the memorable moment became a viral hit, a source told US Weekly it was completely unintentional:
He was having a moment laughing with who he was sitting with about something else and then his elbow was out and he had no idea she was walking by — it's so crowded in that room.
Despite the way it appears when people watch the moment, it sounds like it barely even registered to either star. The source continued told Us:
He certainly wasn't laughing at her at all and she didn't think he was. They were all laughing together [later on] about how funny the whole thing was.
For his part, Leo seemed to regret his reaction almost right away. According to Entertainment Tonight, the actor sheepishly explained himself in an interview backstage:
Oh lord — that's trending, huh? I just didn't know what was passing me that's all!
It's hard to believe that Lady Gaga would have been that bothered by it though, even if his side eye had been intentional. The singer and actress was so blown away by her win, it doesn't seem like anything could have ruined her night.
"I feel like Cher in that John Patrick Shanley film Moonstruck right now," Gaga said in her emotional acceptance speech, according to Entertainment Weekly. "It's like one of the greatest moments of my life."
All is well in Hollywood, even if the pair accidentally gave the internet its sassiest GIF of the year so far.
Image: Jason Merritt/Getty Images