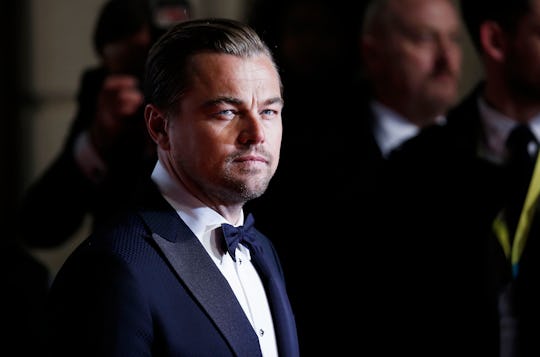 John Phillips/Getty Images Entertainment/Getty Images
Leonardo DiCaprio Winning Oscar Memes Show That This Is His Year — Or It Better Be
Actor, writer, and producer (and my forever heartthrob) Leonardo DiCaprio was first nominated for an Academy Award for his role as Arnie Grape in What's Eating Gilbert Grape. That was in 1993; that was 23 freakin' years ago. Since that first nomination, DiCaprio has been nominated five times. But, despite winning numerous Golden Globes, BAFTAs, Teen Choice Awards, and — yes — one Razzie, DiCaprio has never won an Oscar. But Sunday night may be his night. In fact, many believe that, short of an act of God, Sunday night is his night. This is his year, and fans are going nuts: i.e. the internet is abuzz with chatter and Leonardo DiCaprio winning Oscar memes abound! But before we celebrate a potential win — and bask in the glory that is memepocolypse 2016 — what is The Revenent and the role DiCaprio is nominated for?
In The Revenant, DiCaprio plays a legendary 1830s trapper, Hugh Glass, who is seeking revenge against a colleague who betrayed him and left him for dead in the wilderness. During the course of the film, DiCaprio must overcome numerous obstacles, such as swimming through icy water, crawling through a frozen hard tundra while dragging his injured leg behind him, and — essentially — surviving in a place where man is not meant to survive... sort of like in the Academy.
OK, back to the "good stuff." Here are the best winning (and not winning) DiCaprio memes the internet has to offer:
It's clear the Internet was seriously feeling Leo on Sunday night, and everyone believed that he was way overdue for an Oscar.