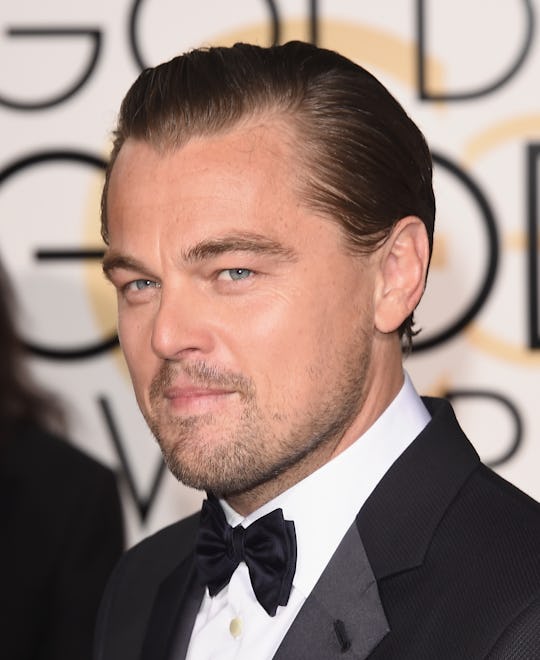 Leonardo DiCaprio's 2016 Golden Globes Acceptance Speech Is A Must-Watch For One Specific Reason — VIDEO
It's not an Oscar, but hey, Leonardo DiCaprio's 2016 Golden Globes win for Best Actor in a motion picture is still pretty cool. He was attacked by a bear in the Revenant and left for dead, after all. A little golden trophy is the least they could do. DiCaprio won just two years ago for Wolf Of Wall Street, and this is his third win overall (he took home the prize in 2005 for the Aviator). It's not unusual for DiCaprio to take home a Globe, and he kept his speech to the point. It was polished and professional and thanked his colleagues. DiCaprio even took a hint from the winners' who came before him Sunday night: He didn't pay attention to the Globes' countdown clock. He wouldn't be played off.
The dude stood his ground as the orchestra started playing. And he stood and stood and stood. The music played for what felt like a majority for DiCaprio's speech. Toward the end there, it seemed as if the swelling tune was cinematic accompaniment, not a "get the hell off the stage" symbol.
He wasn't alone. Most of the winners were unsuccessfully rushed off stage by behind-the-scenes producers pushing "play" on their stereos and giving winners a countdown clock that the viewers couldn't see. Those holding their Golden Globes mentioned it frequently Sunday night.
When Taraji P. Henson accepted her award for Best Actress in a TV Series, she refused to end her speech before it was over. Talking about the countdown clock ticking away, Henson said she's waited 20 years for this moment, and "you gon' wait."
DiCaprio clearly had a similar sentiment. Watch his entire speech, and watch how that music means nothing to him.
And this sums it up very nicely:
On Thursday, the world will find out if DiCaprio gets that Oscar nomination. And if he wins, I'd wager all the orchestras in the world combined wouldn't be strong enough to play him off.
Image: Jason Merritt/Getty Images