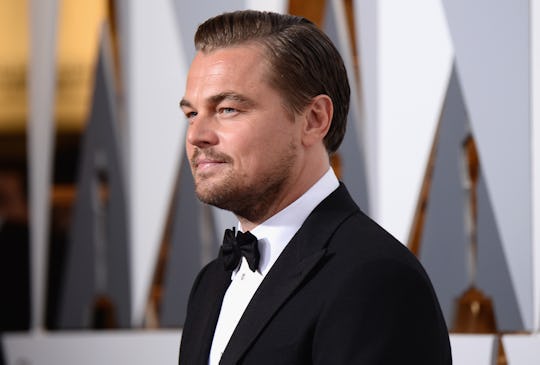 Frazer Harrison/Getty Images Entertainment/Getty Images
Leonardo DiCaprio's Mom Is Being Shamed For Her Armpit Hair & That Is Not OK
When Leonardo DiCaprio won his first Oscar late last month, it seemed as though all of the world was behind him. (OK, maybe that is an exaggeration, but he had the love and support of many — in Hollywood and outside of it.) But it seems support is a fickle thing, and many of the same individuals who praised him just days ago are now condemning him or, rather, they are condemning his mama. Why? Two words: armpit hair. Yup. That's right: an old photo showing DiCaprio, his mom, and his dad has everyone talking about women's armpit hair — or, more accurately, everyone is shaming Leonardo DiCaprio's mom for her armpit hair — and it is so not OK. Everything about this "controversy" is not OK.
Just two days after DiCaprio's Oscar win, the History in Pictures Facebook page shared a sweet and seemingly innocuous pic of the DiCaprio clan. (Awww, look: it's little Leo!) But instead of going gaga over the young, and oh-so-adorable, DiCaprio, the internet went apeshit because Irmelin, DiCaprio's mother, had armpit hair — in 1976, 40 freakin' years ago. In fact, in just one week, the photo has amassed over 7,400 comments and 102,000 reactions, according to BuzzFeed.
Many Facebook commenters expressed their outrage and "disgust." One individual called Irmelin's armpit a "Beast of a pit" while another called it "gross" and still another made sure to point out this was a fringe behavior, "My own Mother wouldn't be caught dead with hairy arm pits. This is an isolated hippy thing."
And on Twitter the commenters weren't any nicer:
However, others didn't see what the big deal was, and they jumped in to defend DiCaprio's mom while making statements about unrealistic beauty standards for women:
But here's the thing: why are we defending this or arguing it? Why is this an issue at all? Newsflash y'all: women grow armpit hair. (Shocking, I know.) We also grow hair on our heads, our arms, our legs, our nipples, our genitals, our chins, and our upper lips because we are mammals. Women are humans too. Sure, shaving is a cultural norm — at least in America — but it isn't vital to our survival. It isn't necessary, and it certainly isn't required.
So can we just stop this insanity and see the pic for what it is: a single happy moment, in one single family's life — captured, suspended, and shared with the world. Get out of her pits already.