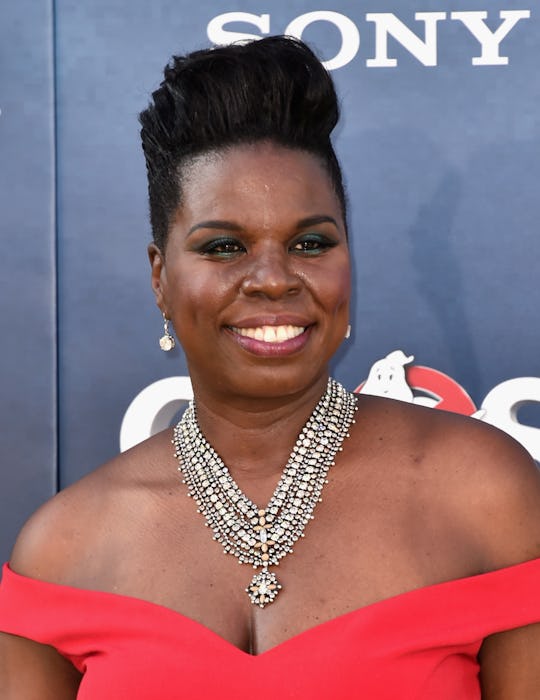 Alberto E. Rodriguez/Getty Images Entertainment/Getty Images
Leslie Jones Has A Message For Simon & Schuster
The book world has been alight with controversy since publishing giant Simon & Schuster gave Breitbart editor Milo Yiannopoulos a $250,000 book deal. Now, actress Leslie Jones, who has been the target of Yiannopoulos's hate in the past, is calling out the company for giving a wider platform to what many consider alt-right abuse. Unsurprisingly, Leslie Jones' tweet about the Simon & Schuster, Milo Yiannopoulos' book deal gets it exactly right.
Yiannopoulos is known for writing articles with questionable titles like "Birth Control Makes Women Unattractive And Crazy," declaring that rape culture is a "fantasy," and being a hero to the racist alt-right movement. Jones is known for being ridiculously funny and inspirational in both Saturday Night Live and the recent Ghostbusters reboot (which apparently ruined the childhoods of many hateful men on the internet because it — gasp — put women in the leading roles).
Back in July, Twitter banned Yiannopoulos after he sent an army of trolls Jones' way, leaving her the target of so much sexist and racist abuse that she temporarily closed her account on the social media site. So when Simon & Schuster released a statement arguing that just because the company paid a troll a lot of money to publish a book full of his views, it doesn't necessarily agree with those views, Jones cut through all the obfuscating and fired back a simple tweet saying, "Yea[h], but you still help them spread their hate to even more people."
The full statement from Simon & Schuster read,
We do not and never have condoned discrimination or hate speech in any form. At Simon & Schuster we have always published books by a wide range of authors with greatly varying, and frequently controversial opinions, and appealing to many different audiences of readers. While we are cognizant that many may disagree vehemently with the books we publish we note that the opinions expressed therein belong to our authors, and do not reflect either a corporate viewpoint or the views of our employees.
The publishing company did not immediately respond to Romper's request for further comment.
Make no mistake. This will not be a book where Yiannopoulus plays nice. It will likely be filled with more of his dangerous rhetoric and harassment. He implied as much in an interview with The Hollywood Reporter, saying,
I met with top execs at Simon & Schuster earlier in the year and spent half an hour trying to shock them with lewd jokes and outrageous opinions. I thought they were going to have me escorted from the building — but instead they offered me a wheelbarrow full of money... Social justice warriors should be scared — very scared.
The book will be published by the conservative imprint Threshold Editions.
Jones is not the only person to react strongly to Simon & Schuster's decision. Many in the publishing and entertainment worlds have called for a boycott of Simon & Schuster books, and some authors who have book deals with the company have been publicly grappling with whether or not to get out of their contracts.
It's tough to know what to do with a troll like Yiannapoulos, who shouldn't be ignored even as he thrives off of backlash. But one thing any company would do well to consider carefully is giving him a massive book deal in which to circulate his destructive stances to a wider audience. Kudos to Jones for articulating it so simply and so well.