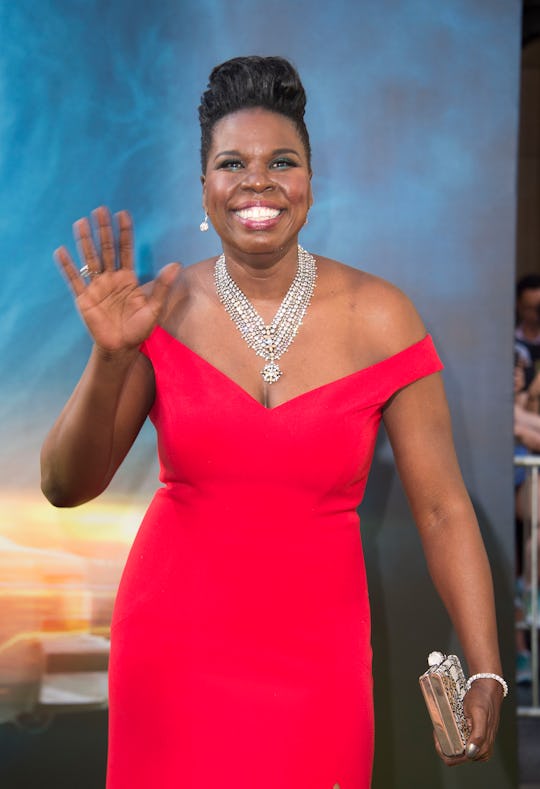 VALERIE MACON/AFP/Getty Images
Leslie Jones Meets Katie Ledecky & Tries Not To Lose Her Cool
Our two faves are finally hanging out! America's #1 Olympic superfan met our newest #1 swimmer and tried not to lose her cool (and failed). In the hilarious video below, SNL and Ghostbusters actress Leslie Jones met Olympian Katie Ledecky and reacted how any of us would: by promptly freaking out.
Jones and Ledecky stand together in the video, arms wrapped around one another, as Jones announces: "Um, this is Katie Ledecky, I'm trying to, uh, not lose all of my sh-- ... but I know when I'm embarrassing myself and I don't care, slay all day, USA." Ledecky just stands there, totally still, but smiles and laughs while Jones fangirls until the video cuts off.
Katie wasn't the only Ledecky woman to get a shoutout. A couple days later, Jones tweeted a selfie video with Ledecky's mom in which her excitement bubbled over once more. In the video that the two were recording for Ledecky, Jones tells the camera, "You know how to swim so good, like a fish. Oh my God. Was you swimming around in her stomach? Oh my God, Ledecky, you are f--king amazing!" In similar fashion to her daughter, Ledecky's mom, Mary Gen, is silent with laughter. Both Jones and Ledecky have returned to the United States, Ledecky with her four gold medals, one silver medal, and a new world record in the women's 800-meter freestyle. (See? You probably would have lost your sh-- too.)
Throughout the previous days, wearing her signature white visor, Jones offered the most enthusiastic U.S. Olympic coverage available. Even now, Jones is tweeting out Olympic coverage while back on American soil. (Favorites include instances of commentary in which Jones speculates as to how well she would fare in each event.)
Upon watching Kerri Walsh Jennings and April Ross win the bronze in beach volleyball, for example, Jones tweeted: "OK I'm on delay, cause I watch the beach volleyball game online!! ... Bout to watch the hurdle race that always stresses me out. I would fall." Girl, same. And as for Jones' thoughts on platform diving? "I would bust all my head."
Here's hoping Jones live-tweets all the way to the closing ceremonies. After having met Ledecky, Simone Biles and Aly Raisman, Simone Manuel, and so many other heroes, Jones is the perfect fan through whom to live vicariously. And although Ledecky has returned to her home state of Maryland to swarms of new fans, maybe she'll find time to hang out with Jones again. At the very least they should watch the synchronized swimming finals together and tweet their commentary from the couch. Slay all day, USA.