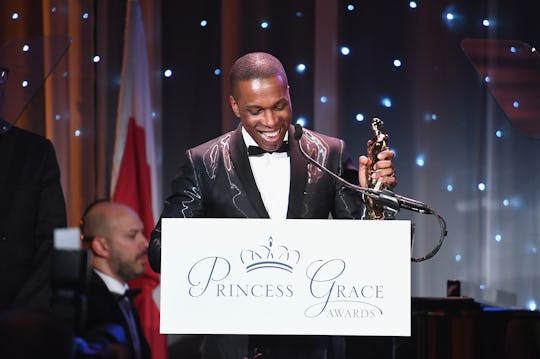 Dimitrios Kambouris/Getty Images Entertainment/Getty Images
Leslie Odom Jr. & Nicolette Robinson Are Parents!
Hamilton may have been a total hit, with ticket sales through the roof and more awards than you can count, but one of its stars just experienced an even more important life event than winning a Tony Award. Over the weekend, Aaron Burr himself, Leslie Odom Jr., and wife Nicolette Robinson welcomed baby number one, and the little girl is seriously beautiful. Not that that's surprising.
In an Instagram post shared Tuesday afternoon, Odom shared an adorable picture of his and his wife's first child, a perfect little girl named Lucille Ruby. Robinson also shared a sweet photo of little Lucille to her own Instagram page, announcing that little Lucille, nicknamed Lucy, was born a couple days ago, Sunday, April 23. And while both of the images are definitely swoon-worthy, their captions are equally as sweet.
Odom and Robinson announced their pregnancy with (unsurprisingly) a perfect Instagram post last October, and since then both parents have shared adorable and sweet updates on how their pregnancy was progressing. And now that their baby girl is here, there will hopefully be even more updates on how the happy family is growing, and how little Lucille is progressing.
But don't just take my words for how perfect the new family is, take a look for yourself below:
"She is the love + light of our lives and she's teaching us so much already.," Robinson captioned her photo holding her new daughter. "Our sweet Lucy, Mommy & Daddy couldn't be happier."
Odom continued with the sweet sentiments, saying, "Lucille Ruby arrived in the wee hours on Sunday morning after a brief but harrowing labor on the part of her incredible mother, Nicolette Kloe Robinson, the dragonslayer. Deeper in love by the minute." And in his comparison of his wife to a dragonslayer, Odom is spot on.
After Odom won the Tony for Best Actor in a Musical, as well as Grammy for the cast's recording of the Hamilton album, Odom took his final bow as Aaron Burr in July of 2016. Since then, Odom has finished filming the new adaptation of Murder on the Orient Express, alongside Johnny Depp and Daisy Ridley. The new film is expected to hit theaters this November.
But clearly, little Lucille is set to be the biggest star in Odom and Robinson's life now that she's made her debut appearance. And while the star of Showtime's The Affair adjusts to motherhood, it's obvious that Odom will be a loving father, and there to support Robinson along the way.