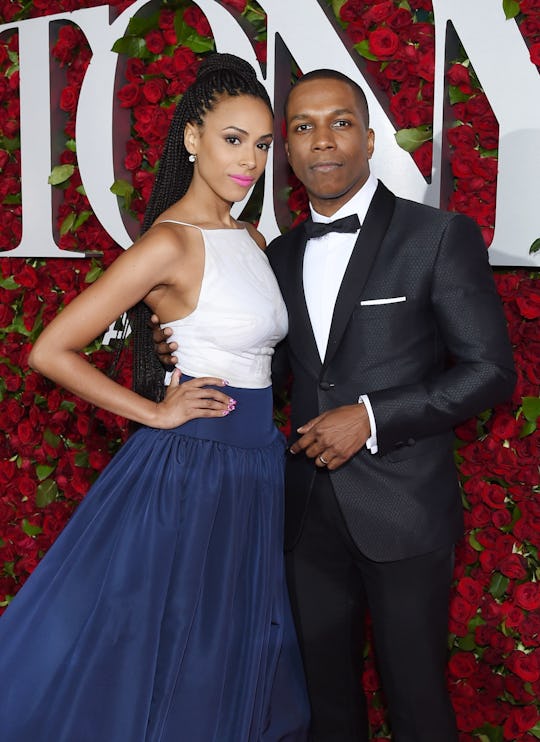 Larry Busacca/Getty Images Entertainment/Getty Images
Leslie Odom Jr.'s Wife Is Pregnant With Their First Child & Fans Are Ecstatic
If you're like the many people around the world who've been dying to see Hamilton on Broadway (or one of the lucky ones who watched the magic on stage), then you've probably been following one of the musical's stars, Leslie Odom Jr., as he tweets about the show, his career, and everything in between. The Tony award-winning actor who portrayed Aaron Burr in Hamilton shared even more exciting news with his fans on Monday. Odom's wife is pregnant with their first child, and already, fans just can't get enough.
Odom and his wife, Nicolette Robinson, have shared adorable pictures capturing moments of their relationship on their social media accounts, (and they're really adorable) so it only makes sense that Robinson's pregnancy announcement would follow suit.
Both Odom and Robinson shared pictures to their Instagram accounts this week, indicating they're expecting a bundle of joy. Odom, who won a Tony award for "Best Performance by an Actor in a Leading Role in A Musical," shared a sweet message on Instagram expressing his excitement:
Little one, you're on our mind all the time. Keep eating and growing! We love you and we're already so proud of you! Love, your mom and dad
I mean, should we have expected anything less from the man who so smoothly played Aaron Burr? No. The answer is no.
Robinson shared a similar photo to her Instagram of her and Odom sitting together on the floor in front of balloons reading "BABY." "One of the greatest gifts we could ever ask for," she wrote."Leslie and I are so excited to share the news that we have a sweet baby on the way."
And judging by the outpouring of support, smiley faces, hearts, and "congratulations!" messages in the couple's comments sections, it's clear their fans are celebrating the exciting news with them.
But this certainly isn't the first time the couple made their fans swoon. Robinson, who is also a singer and actress herself, and who has a recurring role on the Showtime series The Affair, wrote an adorable post about her hubby a few months back.
The post, cited by Entertainment Weekly, revealed that Robinson and Odom have been in a relationship for about eight years. What's more, she detailed their long journey of highs, lows, and career disappointments, and how they powered through together as a team.
A clip from her beautifully-written caption read:
In the almost 8 years that we've been together we have seen incredible highs, deep lows, doors slammed, survival jobs, not knowing how we'd pay our rent... But you always knew your passion, clung tight to your spirituality, maintained your perseverance, and followed your instincts. You are the most talented, loving, passionate, most incredible person I know.
Clearly, Odom and Robinson have not shied away from expressing their love and admiration for one another. I'm sure fans will excitedly follow their journey as new parents.