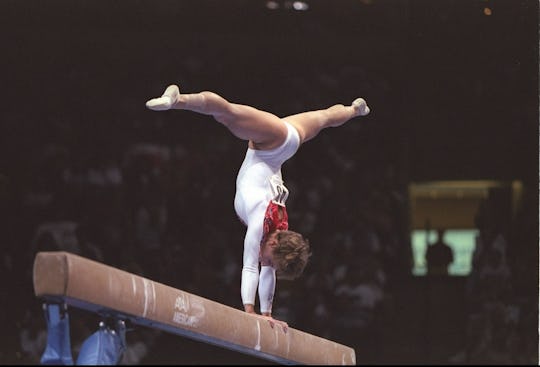 Doug Pensinger/Getty Images Sport/Getty Images
These 9 Olympic Athletes' Stories Are So Incredibly Inspiring
To compete in the Olympics is probably the most remarkable, extraordinary achievement in an athlete's life. To reach that level, they must train for years and years, on a path that is filled with intense training and physical exertion. However, some athletes have stories that go even beyond that norm. It's a testament to their character when you hear these lessons of perseverance from the stories of these Olympic athletes.
As the 2018 PyeongChang Winter Games in South Korea are upon us, it's amazing to look back at some of the athletes that have become Olympians and to hear about what they overcame to be there. Some grew up in abject poverty, some overcame physical disabilities, and still others had traumas they needed to conquer.
Here are a few of their inspiring stories.
2006, 2010, 2018: Lindsey Vonn (USA) — Skiing
Vonn is one of the most decorated and most recognized female skiiers, but this path hasn't been without bumps, falls, and even an airlift off a mountain during the training run for the 2006 Torino Olympics (she competed anyway). Vonn has suffered several major injuries throughout the course of her professional career, according to NBC Sports. For example, a knee injury prevented her from racing in 2014, but she has rehabbed herself back to world class form and is ready to compete in PyeongChang.
2016: Jillion Potter (USA) — Rugby
Jillion Potter had two major events tried to dash her Olympic rugby dreams. The first was an accident. While playing in a game in 2010, Potter broke her neck. Four years later, she was diagnosed with Stage 3 synovial sarcoma, and received chemotherapy for it, reported NBC. She was able to recover from both of those traumas to go on to compete in the 2016 Rio Summer Games.
1956 and 1960: Wilma Rudolph (USA) — Track
Wilma Rudolph grew up in extreme poverty in Tennessee and overcame childhood polio to win medals in the 1956 Melbourne Games and the 1960 Rome Games.
2012: Im Dong-hyun (South Korea) — Archery
Im Dong-hyun isn't your average archer. He's remarkably accomplished and set two world records in the 2012 London Olympics. What's extra-amazing about that is that he is legally blind and competes without corrective eyewear, covered The New York Times.
1996: Kerri Strug (USA) — Gymnastics
In 1996, with her team trailing the Russians, Kerri Strug but landed on her ankle in a way that caused tremendous pain while performing the vault, recapped Healthcare. She knew for her team to win, she had to do it again and to land perfectly and not buckle. Strug did it, landing beautifully and scoring a 9.712, which helped her team win the gold.
2008: Natalie Du Toit (South Africa) — Swimming
Natalie du Toit was a gifted competitive swimmer in Cape Town, South Africa. She was so talented that she started competing in international competitions at the age of 14. Unfortunately, when she was 16, she got a hit by a car on her way to school from practice while on her scooter, resulting in having her leg amputated at the knee, profiled The New York Times. It didn't stop her. She was determined to walk and swim again, achieving Olympic status at the 2008 Beijing Games.
1948 and 1952: Károly Takács (Hungary) — Pistol Shooting
In 1938, while serving in the Hungarian army, a grenade went off in Károly Takács's his hand during a routine training exercise, according to Bed Times. His right arm had to be amputated below the elbow and any Olympic hopes he had were blown up at the same time. Takács went on to learn to shoot with his left hand. He competed in the Summer Olympics in 1928 and 1952, London and Helsinki, respectively.
2012 and 2016: Allison Schmitt (USA) — Swimming
After earning five medals at the 2012 London Olympics, Allison Schmitt should have been on top of the world. Instead, Schmitt opened up to the Associated Press that she struggled with clinical depression, shared US News. She was able to overcome it and compete in 2016, but more importantly, she became an advocate for depression awareness and used her story to help others get help.
2016: Abbey D'Agostino (USA) and Nikki Hamblin (New Zealand) — Track
This one isn't just a lesson in perseverance getting these athletes to the games. It's a story of amazing character and grit in an adverse situation. Both women were running in the 5000 meter run, when Hamblin tripped and fell. Most of the other runners were able to run around her and avoid a collision, but unfortunately, D'Agostino was not. Instead of freaking out or screaming or worse, D'Agostino pulled herself up, pulled up Hamblin and urged her to finish the course, with the two of them crossing the finish line, reported The L.A. Times. It was a fabulous demonstration of the Olympic spirit and in kindness and sportsmanship.
Check out Romper's new video series, Bearing The Motherload, where disagreeing parents from different sides of an issue sit down with a mediator and talk about how to support (and not judge) each other's parenting perspectives. New episodes air Mondays on Facebook.