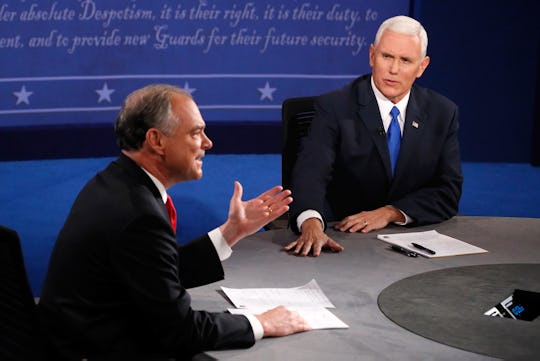 Pool/Getty Images News/Getty Images
LGBTQ Rights Weren't Addressed At The Vice Presidential Debate, & It's Unacceptable
During the first and only vice presidential debate on Tuesday night between Virginia Sen. Tim Kaine and Indiana Gov. Mike Pence, moderator Elaine Quijano asked questions about the economy, Donald Trump's tax returns, Hillary Clinton's trustworthiness, the threat of terrorism, and police brutality against black people. But, the vice presidential debate didn't cover LGBTQ rights, and Twitter was rightfully pissed. It matters that the issue went unaddressed for a few reasons, but, most notably, because Pence is famous for being the brains behind Indiana's religious freedom bill, formally known as the Religious Freedom Restoration Act (RFRA), which reportedly allowed businesses in the state to refuse service to LGBTQ customers based on the business owners' religious beliefs.
After the bill was passed, nine Indiana CEOs called for changes to the law because they believed it supported discrimination against gay, lesbian, and bisexual people and was thus contrary to the inclusivity that their businesses sought to cultivate, according to USA Today. Additionally, notable businesses such as Angie's List, which had planned to expand its headquarters with a $40 million investment, canceled all of those plans in the state, according to the Huffington Post. And, a number of performers, comedians, and sports leagues also canceled or boycotted their respective events in the state.
All of these economic effects came on top of the fact that Pence's policy made something very clear to LGBTQ people in the state: You are not welcome here the way that you are.
For one of the first times, a state was using religion in law to explicitly allow someone to refuse business to people because of their sexual orientation. Because of Pence's notoriety on the subject, many people were convinced LGBTQ rights and same-sex marriage would come up during the debate.
So, when it didn't, people were outraged, as they should have been.
Parents seemed especially disturbed by the omission, because the RFRA has created an unwelcome environment for LGBTQ youth to grow up:
Aside from the RFRA, Pence's comments on LGBTQ Americans have been equally as worrisome. For example, in 2006, he said being gay was a choice and that "societal collapse was always brought about following an advent of the deterioration of marriage and family," according to TIME. He also opposed the repeal of Don't Ask, Don't Tell, and he opposed the Obama Administration's declaration that transgender students should be protected in their choice to use the bathroom of their gender identity at school. According to the Indianapolis Star, Pence said:
I am confident that parents, teachers and administrators will continue to resolve these matters without federal mandates and in a manner that reflects the common sense and compassion of our state.
Kaine also could've used a question about LGBTQ rights to clarify his position. Kaine famously changed his views on same-sex marriage in 2005. He recently said that he believes the Catholic Church will eventually change its views on the subject, according to the International Business Times:
When I heard the [same-sex marriage] proponents describe their motivations, it became clearer to me where I should stand on this. My full, complete, unconditional support for marriage equality is at odds with the current doctrine of the church that I still attend. But I think that's going to change, too.
It's unfortunate for all Americans that a question about LGBTQ rights was left out, but it's also a sad message to the many LGBTQ people in the U.S. who already feel as though their needs go unaddressed far too often.