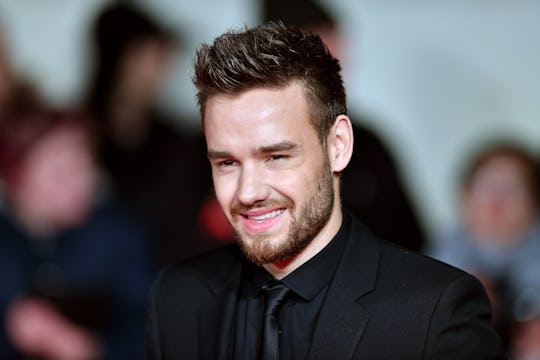 Gareth Cattermole/Getty Images Entertainment/Getty Images
Liam Payne & Cheryl Cole Reveal Their Son's Name
Former One Direction singer Liam Payne and singer Cheryl Cole recently welcomed a baby boy, born on March 22. And after a few weeks of speculation, the little guy's name has now been announced to the world. Liam Payne and Cheryl Cole revealed their son's name on Twitter, and the revelation was pretty low-key, to be honest.
Us Weekly reported that the entertainers revealed the news during an exchange on social media with TV personality Bear Grylls. Why? Because as it turned out, Payne and Cole's newborn son is named Bear too.
Payne made the announcement on Saturday, March 25, on Instagram that Bear was born, though he was reportedly actually born a few days earlier, and before that, he and Cole never publicly revealed the pregnancy. Cole and Payne began dating in February 2015, according to Us Weekly, and seem to still be going strong — and now, they've added a new member to their little family. A little member with a big name to live up to.
Initially, Bear Grylls tweeted out a link to a story in The Daily Mail about Payne and Cole's son's name, and wrote, "Great choice! Love & blessings to you guys as you start on the greatest adventure...," clearly referring to the fact that he and the little tyke share a first name with that "great choice" comment.
Payne replied and told Grylls in their Twitter exchange that he hopes his son is a little bit like the larger-than-life television personality, tweeting specifically that he hopes Bear "grows with an ounce of your courage!"
Payne thanked Grylls when he responded with his wish for his son to have just a bit of the bravery the TV star has, then concluded with, "Your a boss."
The Evening Standard reported that by replying to Grylls, Payne was breaking his social media silence, and that he and Cole both have been keeping a low profile since their first child was born. The publication also reported, however, that not long after Bear arrived, both parents shared "a sweet image on social media showing the One Direction star cradling their baby."
The outlet probably meant this super cute Instagram snapshot of Payne holding his son shortly after his birth:
"My close friends and family know there are very few times when I'm left speechless... wow! I'm incredibly happy to welcome our new baby boy into the world, it's a moment that I will never forget for the rest of my life and my favourite memory I have so far," Payne captioned the photo.
He went on to write:
I'm completely in awe of his incredible mother and how she has been the whole way through this, she's really made my dreams come true. We haven't named him yet but he's already capturing hearts including mine. I feel very blessed.
Happy Mother's Day everyone!
The revelation of Bear's name has definitely sparked some reactions on social media — among One Direction fans.
The Mirror did a piece about some users poking fun at the name on Twitter, with E4Tweets, an entertainment news account, posting a mock-up of a family picture of Cole and Payne holding their baby boy. However, in the humorous photo, the "newborn" pictured is actually Celebrity Big Brother 2016 star Stephen Bear.
It may be a bit of an unconventional choice, but Payne and Cole clearly put some thought into the name Bear. Sometimes parents don't name a baby right away, and instead choose to "get to know" their newborn before choosing a moniker they'll presumably have for the rest of their lives. It seems like maybe that's what Payne and Cole did.
In any case, Payne and Cole's little baby Bear surely has a whole lifetime of love ahead of him, if the excitement and awe of Payne's social media posts about his son are anything to go by. Congratulations are certainly in order for the parents on their new baby — or should I say, new cub?