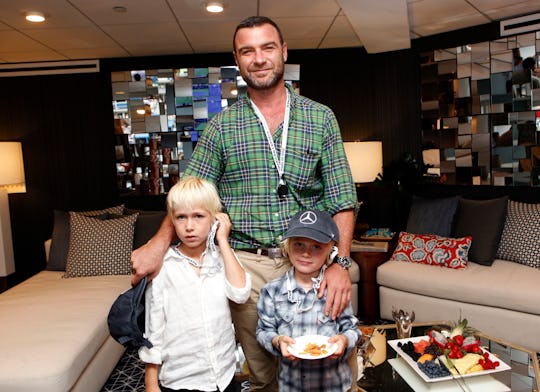 Thos Robinson/Getty Images Entertainment/Getty Images
Liev Schreiber Let His Son Dress As Harley Quinn At Comic-Con & The Photos Are Too Good
Talk about fam goals! While attending San Diego's Comic-Con this weekend, Liev Schreiber let his son dress as Harley Quinn, making him the most awesome dad ever. Schreiber's 9-year-old son Alexander Pete (who goes by "Sasha") donned a super cool jedi costume, as his younger brother, 8-year-old Samuel Kai, opted to dress as Harley Quinn of Suicide Squad fame. As you'll see, the overall result was way badass.
Schreiber, 49, walked hand-in-hand with his kids at the convention. Sasha and Kai's mother, Naomi Watts, was there, too, promoting her work in Twin Peaks. Watts and Schreiber were together for 11 years before their split in 2016. At Comic-Con, Schreiber shared that they all were "going to cross paths and hopefully have lunch later on" in the day. The two have been co-parenting Kai and Sasha, with Watts sharing:
Liev and I are on great terms and we're trying to do our absolute best for the sake of the children, and we hope to keep moving forward in that way. He's a fantastic dad, a wonderful, wonderful man, and we still want the absolute best for each other.
It's great to see Watts and Schreiber working together for their family's benefit — supportive cosplay included. And let's be real: Who doesn't want to dress like Harley Quinn? Margot Robbie's outfit was easily the most-worn Halloween costume of 2016, mixing together so many strong, feminine elements, so it's no wonder Kai wanted to emulate it. At Comic-Con, Kai totally rocked her signature red and blue pigtails, mismatched eye make-up, red lipstick, black fishnets, and of course, Harley Quinn's bat.
Schreiber was at Comic Con to promote his role in My Little Pony: The Movie, in which he voices the Storm King. According to Schreiber, he took on the part for the sake of his sons, who are always hoping that their dad will pick up projects that they're actually allowed to see, given his tendencies to act in mature works only. "That's a constant question from Kai," Schreiber shared, "about eight times a day: 'Dad, what's Ray Donovan rated?'"
It's completely understandable why his kids are his biggest fans. Twitter was so supportive of Kai's Harley Quinn costume choice, with users pleading: "Parents, be like Liev Schreiber." In embracing Kai's costume choice, Schreiber's helping to prove that costumes are pure fun and don't need to be rigidly separated into "boys'" and "girls'" looks; Cosplay is cosplay, and kids deserve to dress however they please.