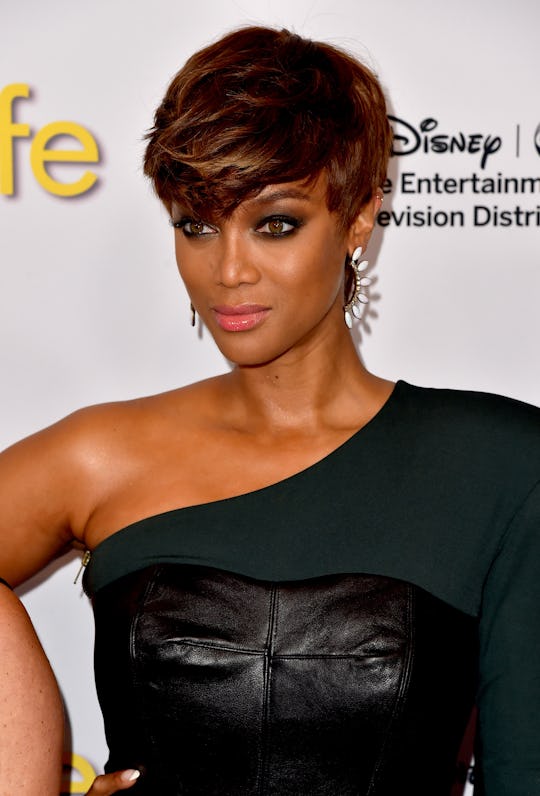 'Life-Size' Is Getting A Sequel, & Here Are 5 Moments The New Movie Needs To Have
After years of rumor and speculation, it's official: Life-Size 2 is in development and Tyra Banks will be reprising her role in this highly anticipated sequel. In an exclusive interview with Variety, Banks explained her decision to return to the series 15 years later:
There is no one else that can play Eve but me, thank you very much!
Banks went on to say:
I'm just joking with you, but yes, I am going to be Eve.
Uh, first off, there is no one who can play Eve as well as Banks, so I'm not even sure why she's apologizing. And second, yesss! Of course she's going to play Eve. Banks has had an incredibly storied career, but one of my favorite moments was watching her own the screen as a as a Disney Queen. Together with Lohan, the Life-Size movie was fun, young, and incredibly cute to watch — and now that it's getting a follow-up, I can't wait to see what issues they tackle!
For those who are not familiar with the original film, Life-Size (2000) was a made-for-TV movie which centered around a Barbie-like character, Eve (played by Banks), who comes to life when a young grieving girl (Lohan) accidentally casts a spell, in an effort to resurrect her late mother. The subject matter was hard — who wants to watch a grieving young girl deal with the loss of her mom? — but I loved that Disney went there. The loss of a loved one at any age is unpredictable and devastating, but the fact that the Disney movie let that play a role in their film was an important message to send to young girls and boys as well as parents.
So while we're thinking about the sequel, here are the top moments it must include:
More "Shine Bright!"
Come on. You love this song as much as the next person does, and you're lying to yourself if you're not humming it in your head right now.
More Body Positivity
When Life-Size first came out the topic of body positivity wasn't exactly front and center. Now it is. And for a movie like this, that rules. So much has changed since the movie first came out that I would love to see how Banks and the writers tackle making women and young girls feel powerful, empowered, confident, and fabulous at any age.
Lindsay Lohan
Banks told Variety that Lohan is not involved with the sequel as of yet, but that doesn't rule out the possibility (aka the HOPE) that she'll sign on for the film at a later date!
Said Banks:
We have not talked about casting at all so I have no idea who is going to be the young person that will be the owner of Eve. We haven't gotten to that.
If it is Lohan, that'd be perfect. It'd be awesome to see how the duo have changed since they first took the screen. (And I'd love to see Lindsay reprise the role.)
Is Eve A Feminist?
Because I know you're wondering. And because yes, she probably is.
Will Eve Bring Another Doll To Life?
One Eve is definitely amazing, but could you imagine two? (Yes, you can, and hopefully the writers will!)
Images: Alberto E. Rodriguez/Getty Image, Giphy (5)