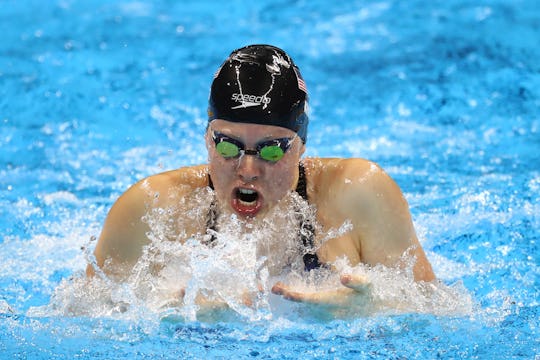 Ryan Pierse/Getty Images Sport/Getty Images
Lilly King Beats Yulia Efimova In The 100M Breaststroke & Makes A Powerful Statement
The Olympics are supposed to be about the world coming together in good fun to compete for medals, but things have been heating up lately, especially when it comes to women's swimming. After accusing the Russian swimmer of doping over the weekend, U.S. swimmer Lilly King beat Yulia Efimova in the 100-meter breaststroke on Monday night. If King was looking to make a statement, she succeeded.
On Sunday, Efimova gave a "number one" finger wag after finishing the 100 breaststroke final. Watching on a monitor in the locker rooms, King was seen waving her finger right back at her on the screen. Later, when King swam and beat Efimova's semi-final time, posting a 1:05.70, compared to Efimova's 1:05.72, King waved her finger from the pool, egging on the competition.
But the super close times and finger-wagging shade aren't what's really bugging King. Efimova is one of seven Russian athletes who were initially banned from the games this year after failing drug tests. Efimova has been suspended for doping before and just this year tested positive for meldonium, which is a banned substance. Efimova wasn't supposed to make it to Brazil to compete.
Just before Rio, though, the International Olympic Committee overturned the ban for the Russian athletes, without a lot of explanation, allowing Efimova to compete. King was having none of that.
On Monday, when asked about the doping suspension, Efimova told reporters that the past year has been "crazy" and that she was ready to compete, but didn't comment any further. Before the semi-finals on Sunday and before the final on Monday night, Efimova was booed as she prepared to swim.
King explained her finger wag later, according to USA Today, saying,
Basically, what happened this morning was that I finished and then I waved my finger a little bit, because that's kind of how I am. Then tonight just now Yulia got done with her swim and I watching in the ready room — and there she is there shaking her finger.
"So then I got done and I beat her time so I waved my finger again," King added. "People probably think I am serving it up a little bit but that is just how I am."
According to NBC, King has said that she didn't agree with the IOC's decision or Efimova's bragging at doing well in the semi-finals after having been accused of doping. "You're shaking your finger 'No. 1' and you've been caught for drug cheating. I'm not a fan," she said.
After winning the gold medal on Monday night, King's shade was sort of worth it. "We can compete clean, and still win," she said just before the final. If anything, King made her point loud and clear by taking the gold.