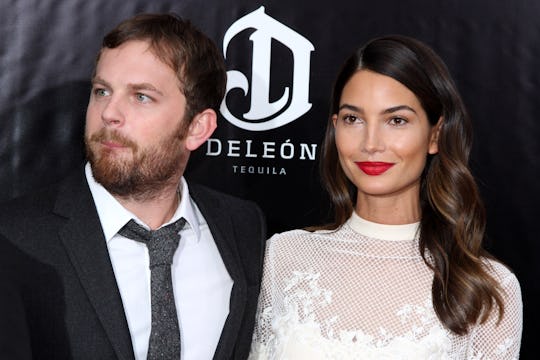 Rob Kim/Getty Images Entertainment/Getty Images
Surprise! Lily Aldridge Just Announces She's Expecting Baby #2
Lily Aldridge's family is growing! The Victoria's Secret supermodel, who is married to her husband, Kings Of Leon singer Caleb Followill, already share a daughter named Dixie together — but now they're making room for one more, according to E! News. This is because, on Sunday, Lily Aldridge announced she is expecting her second child in a new Instagram post and fans are already super excited for the couple.
Aldridge announced her second pregnancy in the most simple of ways, but it really did get the message across. In the photo, posted to Aldridge's Instagram account, Aldridge can be seen smiling for the camera wearing a string bikini. But there is something different about her appearance — the fact that she has a pregnancy bump. "SURPRISE," Aldridge captioned the photo. Just in case fans didn't have an idea as to what the surprise was, Aldridge tagged her husband's personal Instagram account on the photo, indicating that he had something to do with the surprise, too.
This is definitely a surprise to a lot of Aldridge's fans, especially since there hasn't been any kind of hint on Aldridge's Instagram account suggesting that she is expecting. Therefore, a lot about her pregnancy remains a mystery, like her due date or knowing how far along she is in this pregnancy.
But this announcement will do for now. Aldridge looks seriously amazing.
Fans of the model took to Instagram to congratulate her on her soon-to-be new addition to the family. "Best wishes for a healthy and fun pregnancy!," one commenter wrote.
"Gorgeous!," another commenter simply stated.
"We are so happy for you and your family," another commenter added.
But perhaps the people that were most excited for Aldridge's big announcement were her famous friends, who also took to the comments section to freak out over the news. "LILLLY," Chrissy Teigen wrote. "Congrats beautiful mama."
"Yayyyyyyy," Kendall Jenner wrote.
"WOAH!!!!!!!," Gwyneth Paltrow added. "YEAH!!!!!!"
See? Even celebrities get excited for some major pregnancy news from their besties. If fans were a little too excited about Aldridge's pregnancy announcement, they clearly weren't the only people who were too pumped for Aldridge's news. But fans should have expected this announcement at some point — in 2016, Aldridge told E! News that she wanted "hundreds" of kids with her husband. Although two isn't "hundreds" Aldridge and Followill are well on their way to meeting their goal.
It's possible that the one person most excited about Aldridge and Followill's announcement is their 6-year-old daughter, Dixie Pearl, according to E! News. Throughout the past six years, Aldridge hasn't been shy about talking about her daughter — and based on Aldridge's words, her daughter sounds so cute and Aldridge is so happy to be a mom.
Last November, Aldridge told Vogue that Dixie is a "girly girl" like her mom and loves putting on makeup. "It's so fun," Aldridge said. And when it comes to teaching her daughter things, Aldridge revealed that she hopes her daughter takes one very valuable lesson away from her. "I'd like to teach her that beauty comes from the inside," Aldridge said. Now that is a lesson that she can pass on to her newborn son or daughter very soon.
In addition to loving her mom's makeup, Dixie loves watching her mom walk in the Victoria's Secret fashion show, according to Hello! In 2015, Aldridge revealed that Dixie is very familiar with Aldridge's role of modeling in the Victoria's Secret fashion show and loves spotting her mom's famous model friends when she watches the fashion show with her. "Dixie know all my friends," Aldridge said. "She'll be like 'That's mommy!'"
But, it is a little unclear if Dixie will be seeing her mom walk the Victoria's Secret fashion show catwalk this year. Aldridge has walked in the Victoria's Secret fashion show since 2009, according to Vogue and has not taken a break since, even during her first pregnancy. In 2011, Aldridge took to the catwalk when she was reportedly just three months pregnant, according to The Cut. And depending on how far along Aldridge is in her second pregnancy, it is possible that this could happen again.
But, until Aldridge reveals when she is due, fans won't know if they'll be seeing her on their TV screens again come this holiday season. But for now, the sheer excitement of knowing that Aldridge is expecting her second child will have to suffice.