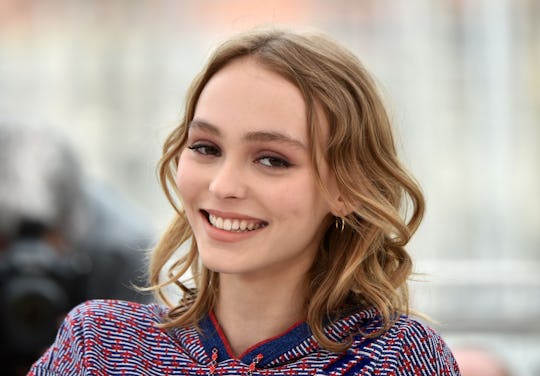 ALBERTO PIZZOLI/AFP/Getty Images
Lily Rose Depp Defends Her Dad Against Allegations Of Abuse & She's Not The Only One
Between the semantics of the current divorce battle between Amber Heard and Johnny Depp, many have stepped forward to express their support for the two respective parties. And now, more than a few big names have thrown their weight behind the latter. This week, Depp's own daughter, Lilly Rose Depp defended her dad regarding accusations that he had abused wife Amber Heard, who recently filed for divorce from the actor, citing "irreconcilable differences."
This outburst of support comes on the heels of the recent accusations and legal proceedings between Depp and Heard, who filed for divorce from Depp on Monday. On Friday, Heard alleged that Depp had abused her and was granted a temporary domestic violence restraining order against him. The order requires Depp to stay at least 100 yards away from his now-estranged wife.
But now, people are coming forward to defend Depp's character, providing their own testament to the character actor the world fell in love with. Among these people are Depp's exes, friends and even his own daughter, actress and model Lily Rose Depp.
In an Instagram post on Saturday, Lily took to her account to share her love and support for her dad, posting a picture of the two when she was only a baby. In the caption, she wrote,
My dad is the sweetest most loving person I know, he's been nothing but a wonderful father to my little brother and I, and everyone who knows him would say the same.
Lilly Rose is not the first notable person to have something to say about Depp's character. Actors Paul Bettany and Mickey Rourke have since come forward with comments about Depp.
Paul Bettany is one of Depp's oldest friends and coworkers, working with him on movies like Transcendence, The Tourist, and Mortdecai. On Saturday, Bettany took to Twitter to discuss the allegations:
While Bettany did his best at defending his old friend, the um — "piranhas" didn't appreciate his comments. And just because Bettany has more insight into Depp than the average person doesn't mean that he has more insight into Heard and Depp's relationship than Heard herself, who is essentially being forgotten during these defenses of Depp's character.
Lily Rose's mother, Vanessa Paradis, has also stepped forward to defend Depp. Paradis was Depp's partner for 14 years and the mother to his daughter and their 14-year-old son Jack Depp. In a letter obtained by TMZ, Paradis wrote that Depp is a "sensitive, loving and loved person." Paradis added,
And I believe, with all my heart, That these recent allegations being made are outrageous, in all the years I have known Johnny, he has never been abusive with me and this looks nothing like the man I lived with for 14 wonderful years.
While all these people are coming forward to defend and support Depp, we should not forget why they have to come forward in the first place. It is still very important to take Heard's accusations seriously, especially during such a difficult time.
Despite the fact that Depp is a beloved figure for his years of work in Hollywood and abroad, his many supporters would do well to take their own advice and not rush to Heard's judgment until all the facts are out.