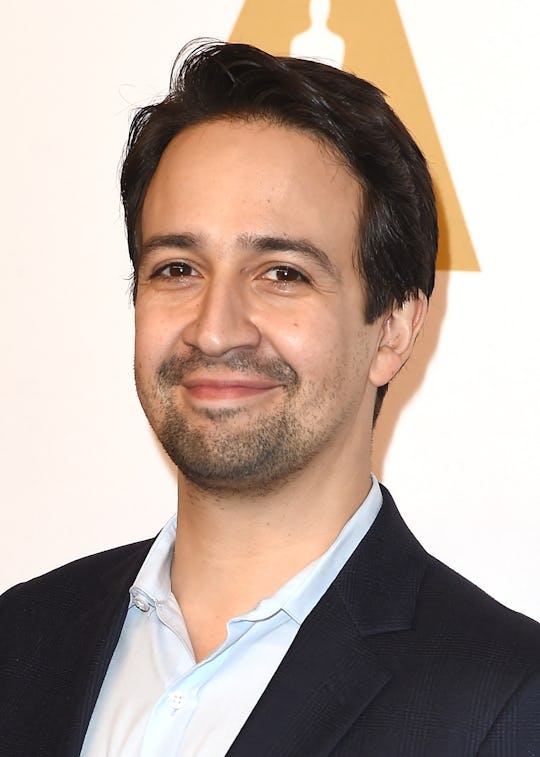 Kevin Winter/Getty Images Entertainment/Getty Images
Lin-Manuel Miranda Had The Best Oscars Date
As if Lin-Manuel Miranda wasn't already America's new sweetheart, he upped his adorable factor for the 89th Academy Awards. Yes, Lin-Manuel Miranda brought his mom to the 2017 Oscars and she was obviously the best date ever. The Hamilton creator tweeted early Sunday evening, "Aaaaaand my mom is watching Gilmore Girls on her phone on the way to the Oscars." If there's one thing we all understand way too well, it's the insane desire to just want to go home and finish another few episodes, even if the social event is the biggest night in Hollywood.
Miranda's made a big deal of that fact that he was bringing his mom to the awards ceremony. On Friday, his mom, Dr. Luz Towns-Miranda, accompanied her son on The Rachel Ray show to help pick out her red carpet look.
Let's all just take a moment and assume that since Luz has "Dr." in front her name, she was very capable of picking out her own dress — but hey, this is Hollywood, and everything's for show, right?
On Ray's talkshow, Miranda said that his mom has been dying to hit the Academy Awards red carpet for as long as he can remember.
He said, "I remember my mom — as a kid — saying, 'When you get nominated for an Oscar, I'm your date.' That's such a pie-in-the-sky thing to say. But she sort of always believed, I think she believed even before I did, so I'm thrilled to get to keep that promise." Miranda's obviously a man of his word.
It's pretty hysterical that his mom wanted to go to the Oscars, and not any of the other awards shows. But Luz must have been psychic — this is THE biggest night for her son. Miranda might EGOT Sunday, or finally get an Emmy, Grammy, Oscar, and a Tony, which is not an easy feat.
Already, Miranda has three Tony's for In the Heights and the runaway Broadway hit Hamilton. He has two Grammys for Best Musical Theater Album for each of his musicals and he snagged an Emmy for composing the opening song of the Tony Awards. If he manages to win an Oscar tonight for composing the song "How Far I'll Go" from Moana on Sunday, he will be one of the youngest people to ever EGOT.
Miranda's not the only one who might make it a step closer to an EGOT Sunday night. Viola Davis, Justin Timberlake, and Sting are also up for Oscars that could put them one step closer to the rare achievement.
That's great and all for Miranda of course, but what we really want to know is if his mom is Team Logan or Team Jess. You know, the important things in life.