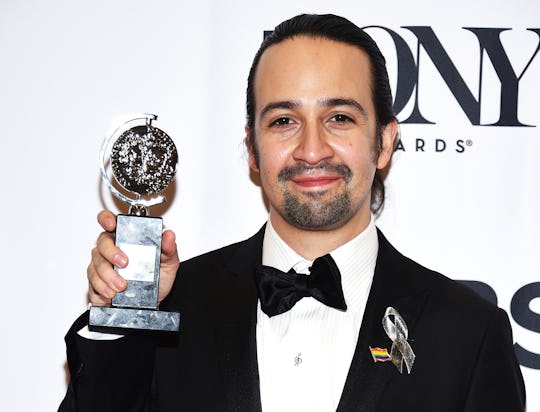 Dimitrios Kambouris/Getty Images Entertainment/Getty Images
Lin-Manuel Miranda Creates T-Shirts To Support Orlando Victims And Show Solidarity
Lin-Manuel Miranda has once again proven that he is an exemplary human being. Not only is he the scribe and star of the Tony-winning, crazy-making, Broadway hit, "Hamilton," but he's also taking action for the victims of the mass shooting at Pulse nightclub early Sunday morning. Lin-Manuel Miranda creates t-shirts to support Orlando victims and his support is inspiring.
Not only do the shirts show solidarity with LGBT communities everywhere, but purchases made from his official merchandise site directly benefit Equality Florida, a gay and lesbian advocacy group that supports the victims and families of the victims of the Pulse nightclub shooting. Miranda announced the T-shirt sales on Twitter on Thursday. He wrote, "Here's a thing that speaks for itself. I'm very excited about it and it's a way you can help."
The site, called Tee-Rico, is pared-down and direct. It opens on a note from Miranda explaining the mission of the online store. He explains that the project is in partnership with Broadway Cares, an AIDS research, support, and advocacy group. He also writes that proceeds to Equality Florida will aid in their "tireless efforts to secure equality and justice for Florida's LGBT community." On top of that, he links to a GoFundMe page for the Orlando victims and encourages visitors to make donations directly.
Though there is only one shirt design available right now, Miranda writes that the site will continue to feature new "artist-provided designs" for supporters to buy. The first t-shirt design is a sketchy, colorful reference to the sonnet Miranda delivered at the Tony Awards after the news broke about the shooting. During his speech he said, "Love is Love."
The shirt design reads: "Love cannot be killed or swept aside. Now fill the world with music, love and pride." The back says, "Love is love is love is love is love is love." The message was Miranda's lyric response to the tragic events at Pulse nightclub and the words, though simple, manage to convey a message of hope, togetherness, and support of LGBT people everywhere being loved and loving equally.
Miranda reminded visitors to the Tee-Rico site that "the tragedy in Orlando is more important than everything else. Our thoughts and prayers go out to the victims and their families and we want to help." After the shooting, feelings of sadness, desolation, and anger were widespread, and visible at the hundreds of vigils held across the world. Miranda is providing a way to turn those feelings to action.
Since the site has gone live, Miranda has been open about responding to fans' feedback. The site managers have improved shipping and size options, and continue to make this loving project as helpful and as impactful as possible.