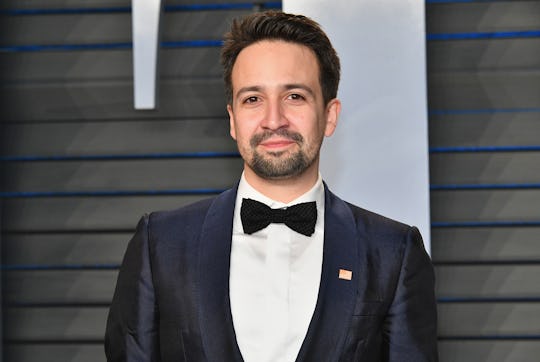 Dia Dipasupil/Getty Images Entertainment/Getty Images
No High Chair? No Problem! Lin-Manuel Miranda Has The Best Parenting Hack
Is there such thing as a quintuple threat? He's already an award-winning composer, lyricist, actor, and rapper who single-handedly turned America's fifth-most well-known founding father into the biggest pop culture icon of the 2010s, but apparently, he's also a baby expert, too. Lin-Manuel Miranda offered a parenting hack to his Twitter followers on Tuesday that's two parts charming, one part hilarious, and one part brilliant, just like the man himself. Honestly, though, did anyone expect any less? Everything this dude touches turns to gold.
During a vacation in Wales with his wife, Vanessa Nadal, and their sons, 3-year-old Sebastian and 6-month-old Francisco, it seems that the family found their rental lacking the proper accoutrements necessary to cater to younger guests. No matter, they just improvised (a real-world application of his theater skills, perhaps). "Parenting hack: don't have an infant high chair for dinner?," Miranda tweeted. "Have you considered a bucket full of towels?" He also included a photo of little Francisco perched on a rustic dining table in the jury-rigged infant seat, which to my eye looks more like a compact baby bathtub, but honestly, I suppose any large, shallow container would work just as well, provided you have enough spare towels lying around.
But in Europe, plopping a baby into a low-budget container is old news. Since the 1940s, the Finnish government has provided every pregnant woman with a free box of goodies in order to combat the country's once-high infant mortality rate. According to Smithsonian magazine, the box contains "about 50 items of baby gear, including a snowsuit, socks, diapers, a bath towel, a thermometer, a picture book and (for the parents) a pack of condoms." But the coolest part is that once you take everything out of the box and insert an appropriate mattress and sheet, it becomes a bassinet.
The idea worked wonders, and in recent years, it's been spreading like wildfire. Government agencies, hospitals, and nonprofits worldwide have begun offering similar boxes to new moms. Scotland just celebrated the first anniversary of its own baby box program, according to the BBC, after giving out about 1,000 of the care packages per week in the first year, with 85 percent of parents participating. Of those, 62 percent reported that they planned to use the box as a crib. Unfortunately, there's no national government program stateside, but you can get one for free from The Baby Box Co. by signing up for their Baby Box University parent education program.
Many of Miranda's fans responded with praise for his clever idea, some saying that they'd keep it in mind for when they had kids, others bemoaning the fact that the tip had come too late for them to take advantage. Some also shared their own tricks, tips, and tales of makeshift baby furniture. "Known in our house as 'baby in a box,'" replied @rose_sharpe. " Put what you need in a plastic box. Visit friends/relatives. Unpack and have handy high chair/small prison." Genius! Now I'm really regretting the days of lugging a diaper bag and a Pack 'n Play around everywhere.
Another follower going by the handle @Gashy_Baby even had advice for creating a temporary three-point harness (which I assume is best for older babies and toddlers). "Two scarfs! Tie one around the waist of baby and chair, and then on up through the legs to attached to the other scarf and the chair. I use a wrap (sling) too, and does the job!" I feel like I need a photo to fully understand how that works, but by the sound of it, this method seems tried and true. There were also some not-so-great ideas — one Twitter user mentioned laying a 4-month-old to sleep in a drawer padded with towels, which seems like a serious suffocation risk, but if your baby's awake and you're within arm's reach, why not experiment with your own high chair hacks?