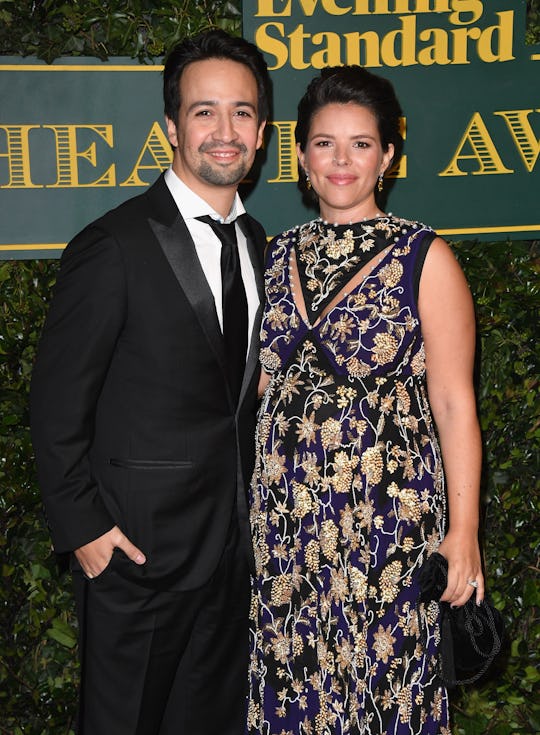 Stuart C. Wilson/Getty Images Entertainment/Getty Images
Lin-Manuel Miranda & Vanessa Nadal Are Expecting Their 2nd Child, & His Tweet About It Is *So Good*
On Sunday, Hamilton star Lin-Manuel Miranda attended the London Evening Standard Theatre Awards with his wife, and after the couple hit the red carpet, fans quickly realized congratulations were in order. Lin-Manuel Miranda and Vanessa Nadal are expecting their second child together, and though they hadn't officially announced the news, Miranda seemed more than happy to confirm it on Twitter, responding "Oh hell yeah," after followers asked if Nadal was pregnant.
The couple, who married in 2010, are already parents to a 3-year-old son named Sebastian, according to The Huffington Post. And while the super-talented Broadway star is beloved by his fans, Miranda seems pretty certain that it is actually Nadal — an attorney and a scientist, as if one of those things alone wasn't impressive enough — who is the star of the show. In 2016, Miranda gave his wife a beautiful and poetic shout out during his acceptance speech at the Tony Awards, according to E! News, and said,
My wife's the reason anything gets done/She nudges me towards promise by degrees/She is a perfect symphony of one/Our son is her most beautiful reprise/We chase the melodies that seem to find us/Until they're finished songs and start to play.
After confirming Nadal's pregnancy on Twitter, the star responded to some more fan tweets regarding his growing family and shared that his son is totally psyched by the prospect of having a sibling. After one of his followers wrote "tell seb i say congrats on becoming a big bro," Miranda replied and said, "He is so impatient for it. Once, mid-tantrum, he cried, 'When is mommy gonna HAAAATCH...'"
While it definitely sounds like the (adorable) family is eagerly awaiting their new arrival, they don't actually seem to be slowing down much. In addition to attending the awards in London, Miranda and Nadal are also in the city in anticipation of Hamilton's London opening later this month, according to The Huffington Post — and they've turned the big night into an opportunity to do some good.
In November, the couple appeared together in a video to announce a contest in support of climate change organizations the Natural Resources Defense Council (NRDC) and 10:10. And the prize sounds very cool: according to the Prizeo campaign page, a $10 donation earns you a chance to win a three-day trip to London, two VIP Tickets to Hamilton's opening night, a meet-and-greet with Miranda himself, and tickets to the show's after-party.
Miranda and Nadal might just be one of the cutest celebrity couples ever, so it's not entirely surprising that they also have a totally sweet love story. In 2010, Miranda told The New York Times that he actually met his wife while they were still in high school, but was too afraid to actually ask her out. He explained, "She was gorgeous and I'm famously bad at talking to women I find attractive. I have a total lack of game." Years later, the two reconnected on Facebook, and Miranda invited her to one of his hip-hop improv shows. Nadal showed up, and was totally impressed:
When he came onstage, I thought, I really like this guy. He was up there free-styling and weaving rhymes together. It's pretty impressive. He's really, really smart.
It may not have been an instant love connection, but Miranda's patience definitely seems to have paid off, and it's clear that, these days, he's loving life as a husband and father. Luckily for him, it also sounds like his young son is already a fan of his dad's work: in November, Miranda tweeted about taking Sebastien to see Hamilton for the first time, according to People, and he was pretty impressed. Miranda wrote,
In summary, he liked it. His favorite part? 'The scary parts.' (Yorktown) But also 'the kissing and fighting and singing.' Thank you.
Honestly, the idea of Lin-Manuel Miranda taking his young son to see Hamilton is pretty much the cutest thing ever. Even cuter? The fact that, in a few years, Sebastien's little brother or sister will also be able to join them.