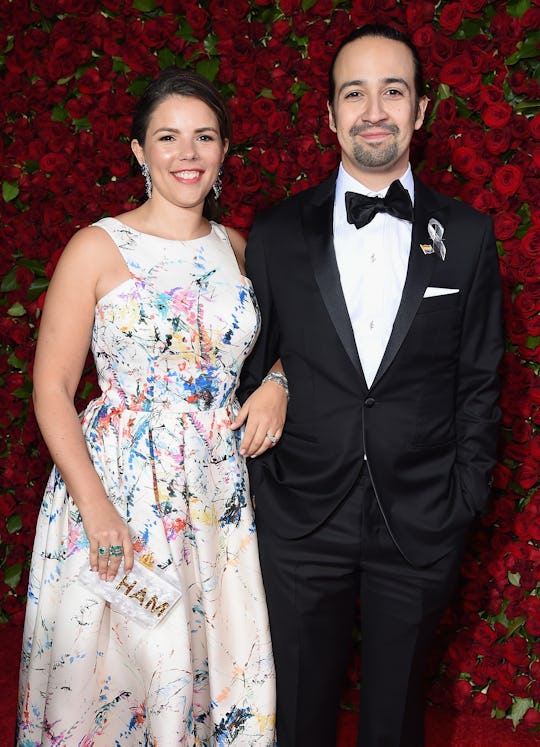 Larry Busacca/Getty Images Entertainment/Getty Images
Lin-Manuel Miranda & Vanessa Nadal Just Announced The Birth Of Baby No. 2 With The Sweetest Pic
Broadway composer and actor Lin-Manuel Miranda is a dad again. On Friday afternoon, Miranda announced he and Vanessa Nadal just welcomed baby number two, a baby boy, with the sweetest photo posted on Miranda's own Twitter account. The little guy's name is Francisco Miranda, and if the photo Miranda posted is any indication, he's already the cutest little addition to their family.
Fans didn't even know for sure that Miranda and Nadal were expecting their second child until early December, when the couple appeared on the red carpet at the London Evening Standard Theatre Awards and Nadal appeared to be pregnant, according to Billboard. So we've all barely had any time to get used to the idea of a new little Miranda baby joining the rest of us here in the world, and he's already here.
After Miranda himself retweeted photos from the event, fans stared getting curious, and one finally tweeted, "is v..?," presumably meaning to delicately ask whether the attorney and scientist was expecting. Miranda replied, "Oh hell yeah," and fans finally knew the truth. The fact that no one knew until about two months ago and Francisco just arrived means the couple kept the news under wraps for a pretty impressive amount of time.
Miranda gave out little information about his second child in the tweet, but he did it in the most creative way possible, because of course he did. The creator of the hit musical Hamilton couldn't have made an epic baby announcement any other way, really.
As part of the announcement, Miranda posted a super cute photo of baby Francisco and Nadal, and a script-style caption that read:
Int. Hospital Room. Night. [The screams reach a delirious crescendo. FRANCISCO MIRANDA enters. He is 7 pounds and 13 ounces.] Intermission.
He also respectfully included the link to the Twitter account of the photographer of the cute picture, which featured Francisco looking happy, healthy, and adorably chubby-cheeked while cuddling with his mom.
The fact that Miranda included a photo of his new son at all is actually extremely notable, because the singer and songwriter is usually incredibly careful to protect the privacy of his first son, Sebastian. In every tweet he posts of his son, Sebastian's face is always turned or covered up, iHeartRadio reported in November. So a shot of Francisco's face is a truly extraordinary treat for fans.
Francisco is a very lucky kid, in the sense that he already has some very talented parents and a big brother to watch out for him. Miranda and Nadal's 3-year-old son Sebastian has already seen at least part of his famous father's award-winning Broadway musical, according to People. And it likely won't be long before Francisco gets to witness the magic that is Hamilton too — magic that some of us have not had a chance to experience yet, by the way. (Don't mind me. I'll just be over here, forever bitter over never winning the Hamilton lottery).
In fact, when Sebastian saw Act I of Hamilton, he was apparently a fan of the show. Miranda reported that Sebastian's favorite parts were, "'The scary parts.' (Yorktown) But also 'the kissing and fighting and singing'," People reported. That's honestly more informative than some other theater reviews I've read in the past.
There's no doubt that Francisco is going to grow up with music and the theater in his life. Miranda is not only the creator of Hamilton, but he's also the genius behind the musical In the Heights, which won four Tony awards in 2008, including Best Musical. He was also the main songwriter on Disney's animated movie Moana, according to Variety, and he has given no indication that he's going to stop working on projects anytime soon.
But if he chooses to turn to law or the sciences instead, Francisco also has a great role model in his mother. Nadal got her Bachelor's in chemical engineering from the Massachusetts Institute of Technology (MIT), Heavy reported. After that, Nadal earned her law degree from Fordham University School of Law, according to Us Weekly. That's a pretty impressive résumé, in my opinion.
No matter what Francisco does with his life, his parents are definitely going to be very proud and supportive of him. And fans of the Hamilton creator or his equally-talented wife will continue to wait anxiously for any update about either of Miranda and Nadal's children that they choose to share — even if it's just a photo of the back of one of the kids' heads.
Check out Romper's new video series, Bearing The Motherload, where disagreeing parents from different sides of an issue sit down with a mediator and talk about how to support (and not judge) each other's parenting perspectives. New episodes air Mondays on Facebook.