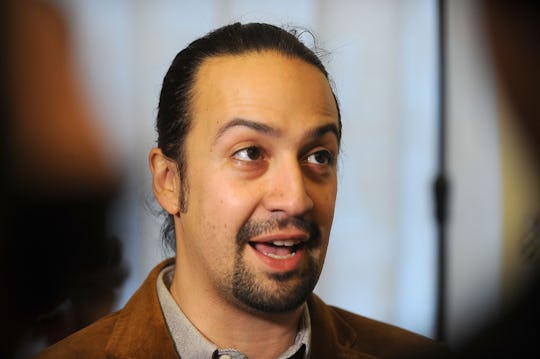 Brad Barket/Getty Images Entertainment/Getty Images
Lin-Manuel Miranda Wins Pulitzer For 'Hamilton', Internet Reacts Appropriately
Hear ye, hear ye: April 18 is a day that will go down in history (and not just because it's tax day — although in some ways, that's coincidentally fitting). On Monday, Hamilton creator Lin-Manuel Miranda was awarded the Pulitzer for drama, for his hip-hop stage adaptation of Founding Father Alexander Hamilton's historical biography. The internet, never one to miss a beat, reacted accordingly.
"All hail the new Prince of the Pulitzter, Lin-Manuel," tweeted TV writer and producer Norman Lear, congratulating the Hamilton star on his success. Mashable joked excitedly that the Pulitzer win had "surprise[d] no one." Even Elmo got in on the action.
"Elmo's friend Lin-Manuel won a fancy prize called Pulitzer, but Elmo doesn't know what it means!" the little red Sesame Street puppet tweeted enthusiastically. "Congratulations Mr. Lin! Yea baby!"
Miranda himself seemed a little taken aback by the news: Just a few hours earlier, the composer, singer, and actor took to Twitter to let his fans know he'd be in the recording studio working, in case anything exciting occurred. "Okay I'm in the studio recording Moana demos for the next couple hours," Miranda tweeted, referring to his composition work for the upcoming Disney flick Moana, which centers on the story of a young Hawaiian princess. "Don't do anything crazy without me, world."
Of course, the world didn't listen. A short while later, Miranda, presumably back from his recording session, logged into Twitter once more to post his own shocked reaction to the Pulitzer win. "#YayHamlet," he tweeted, posting a shocked, blushing emoji, before adding, "Grateful grateful grateful grateful grateful grateful grateful grateful grateful grateful grateful grateful grateful grateful great full." (Miranda's Hamlet reference stemmed from an earlier fan encounter, in which the composer recalled a woman stopping him on the street and exclaiming somewhat confusingly, "Congrats on Hamlet!")
With his win, Miranda became one of only a handful of non-white Pulitzer drama winners — fitting for a musical portrayed by such a diverse cast of performers, many of whom identify themselves as black or hispanic.
By Monday afternoon, Twitter was awash with positive sentiments from fans thrilled to see both Miranda and their favorite musical take home the honor:
Miranda, being the class act that he is, spent the remainder of the hour congratulating the day's other big winners, including The New Yorker's Emily Nussbaum, who won the Pulitzer for criticism, and Pulitzer finalists Stephen Karam and Branden Jacobs-Jenkins (creators of The Humans and Gloria, respectively), before giving some sage advice to his own past self.
"*Gets in time machine, grabs 12 year old me by the face*," Miranda wrote in a heartwarming tweet. "IT GETS SO GOOD KID, JUST HANG IN THERE."
Hear that noise? That's the sound of 1 million Hamilton fans punching the air with joy.