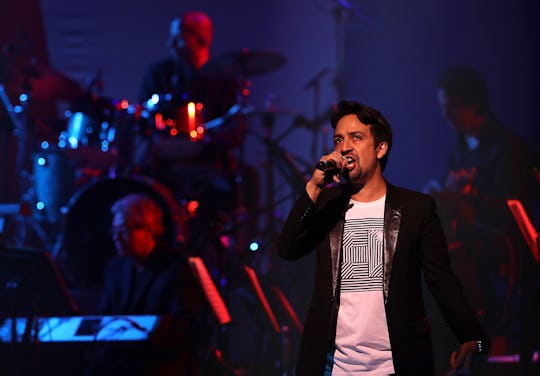 Justin Sullivan/Getty Images News/Getty Images
Watch Lin-Manuel Miranda's Powerful "Immigrants" Music Video
It's no secret that Hamilton creator and star Lin-Manuel Miranda knows how to get to the heart of an issue. But just in case you forgot how powerful his music can be, watch Lin-Manuel Miranda's new music video for "Immigrants (We Get The Job Done)" from the Hamilton Mixtape. The song was inspired by a song from the Hamilton soundtrack, "Yorktown (The World Turned Upside Down)." The track and video features K'naan, Residente, Riz MC (actor Riz Ahmed's rapper name), and Snow Tha Product rapping their verses over footage depicting immigrants traveling to America, imagined Immigration and Customs Enforcement (ICE) deportation raids, and one immigrant literally sewing American flags.
Like everything else Miranda seems to do, the video is a powerful and poignant message that seems to come at just the right time. This week, the Supreme Court reinstated a version of Donald Trump's travel ban from Muslim countries, which could affect refugees, and actual ICE deportation raids at people's homes and workplace are already in full effect under the new administration.
Miranda described the song and video on Genius as a "counterweight" to the current political environment and an attempt to stand up for the rights of immigrants.
Miranda wrote:
This election cycle has brought xenophobia and vilification of immigrants back to the forefront of US politics. This is a musical counterweight. Each MC culturally represents from a different place on the map. These are my favorite MCs from all over the world. They can speak to this theme from their brilliant perspectives."
All of the featured artists are immigrants themselves. K'naan is Somali-Canadian; Residente is Puerto Rican; Riz MC is British Pakistani; and Snow Tha Product is a Mexican-American woman. Who better to spread the good news about immigration than these musicians?
The track is not subtle, to say the least. Take K'naan's verse for example:
I got 1 job, 2 job, 3 when I need them/I got 5 roommates in this one studio, but I never really see them/And we all came America trying to get a lap dance from Lady Freedom/But now Lady Liberty is acting like Hilary Banks with a pre-nup/Man, I was brave, sailing on graves/Don't think I didn't notice those tombstones disguised as waves/I'm no dummy, here is something funny, you can be an immigrant without risking your lives/Or crossing these borders with thrifty supplies/All you got to do is see the world with new eyes.
Both Residente and Snow Tha Product rap some or all of their lines, respectively, in Spanish. Residente rounds up the track finishing with:
We are the ones who cross/Here we come to look for the gold that was stolen/We have more tricks than the secret police/We packed our entire house in one suitcase/With a pick, a shovelAnd a rake/We built you a castle/How's the chorus go again cabron?
The video is worth a watch, the track worth a download. If the resistance against the Trump was looking for an anthem, this song is a worthy contender.