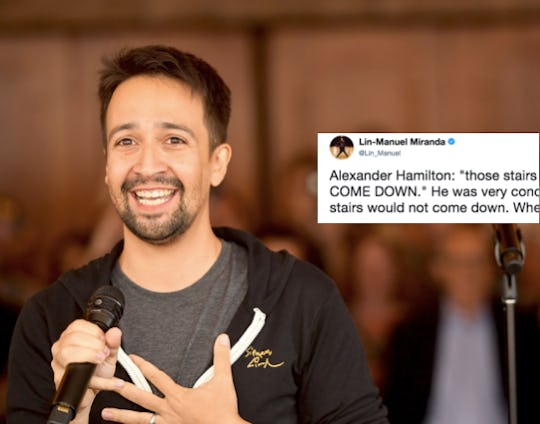 Matt Winkelmeyer/Getty Images Entertainment/Getty Images
Try Not To Cry Laughing At Lin-Manuel Miranda's Son Reviewing 'Hamilton'
Lin-Manuel Miranda and his wife Vanessa Nadal recently took their almost-three year old son Sebastian to see Hamilton, the phenomenon that made Miranda a household name. But did Sebastian appreciate his dad's masterpiece musical? On Twitter, Miranda relayed his son's Hamilton review and it was every bit as adorable as you could imagine.
Sebastian and Hamilton (the stage version, that is) are almost the same age, as Sebastian was born shortly before the show premiered. He may be a little young to understand all the intricacies of American government, but there was still plenty of song and dance to entrance the youngest member of the audience. Miranda dutifully transcribed his son's every opinion in a Twitter thread, providing fans with an honest critical review that definitely wasn't swayed by family loyalty. Sebastian made it clear how he felt about every twist and turn of Act 1 — because he's not quite ready for everything Act 2 has to deliver. That, Miranda explained, would definitely have to wait until Sebastian was older.
Miranda started off by explaining that Sebastian would have to sit on not one but two booster seats to even be able to see the show, so keep that incredibly adorable picture in your mind as you read the best Sebastian Miranda has to offer on Hamilton.
Making Sure It All Runs Smoothly
Sebastian was on top of the production from the very beginning. Lucky that he was there to make sure nothing went awry!
The Inside Scoop
Sebastian obviously has connections (how else could a toddler score the most in-demand tickets in town?) but they extend beyond his super cool parents. He also gets to chill with actress Elizabeth Judd in her off time. It's weird to be jealous of a baby, right?
Noticing The Important Details
Someone had to point it out! It was the elephant in the room.
Asking The Real Questions
While the motivation behind some of Sebastian's inquiries might have been mystifying to his father, it was clear that Sebastian wasn't afraid to pose difficult questions out loud.
Action Packed
The choreography of "Yorktown" was so exciting that Sebastian simply had to try and join in from his seat, which is really the biggest compliment of all.
I'm Not Crying, You're Crying
As if the image of a toddler in a throne of double booster seats preparing to watch a popular musical wasn't cute enough, it gets cuter: Sebastian curling up with his mom during the most heartwarming song is bordering on painfully sweet.
My Two Dads
Okay, it just keeps getting cuter. When Hamilton and Burr sang "Dear Theodosia" together, Sebastian assumed they were both Theodosia's parents (which might not be an actual part of the show, but is definitely a valid interpretation) because of his own bestie's parents. It took the adorable to the next level. Maybe they ought to consider adding Sebastian's suggestion to the show — the idea is obviously a real crowd pleaser.
In Summation
Ultimately, it seemed like Sebastian's favorite parts of the show might be ones shared by most of the audience. He seemed to like all the highlights, and it was all the most exciting bits — the kissing and fighting and singing — that stuck out to him. Those show-stopping moments are memorable no matter how old you are. The scary parts are cool too.
With all the insights he had to offer, fans of Hamilton are sure to be eagerly awaiting what Sebastian Miranda has to say about Act 2. Hopefully his dad will take the time to update everyone again when that day finally comes.