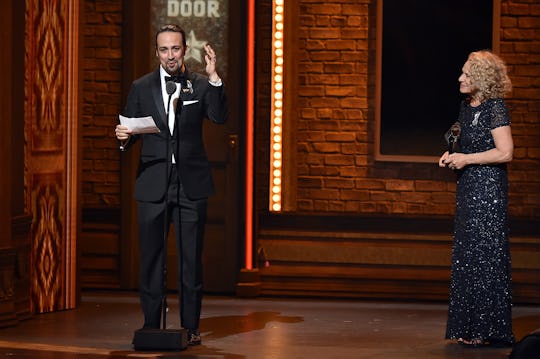 Theo Wargo/Getty Images Entertainment/Getty Images
Lin-Manuel Miranda's Tonys Acceptance Speech Reactions Show How Heart-Wrenching It Was
Of everyone attending the Tonys on Sunday night, actor, writer, and composer Lin-Manuel Miranda held a special spot in the hearts of viewers. As the creator and star of the Pulitzer Prize award-winning Broadway show Hamilton, he crafted a show that brought in a record-breaking 16 Tony Award nominations, and the Broadway play has been revered as an inclusive, ground-breaking performance. In the past, Miranda rapped his acceptance speech for his Grammy, so fans were understandably looking forward to his Tonys speech. This time, he performed a sonnet of love — and the best reactions to Lin-Manuel Miranda's Tonys acceptance speech are proof that he struck the absolute right tone.
Anyone who creates a hip-hop musical about an American founding father is clearly brilliant, and Miranda has definitely been reaping in the praise lately. He's won a MacArthur Fellowship (also known as a "Genius Grant"), a Tony, a Grammy, an Emmy, and a Pulitzer Prize, among countless other awards. (Seriously, just take a scroll through Google. I dare you.) He's also gathered many stellar reviews, and gained quite the following of fans — a few of which include Will Smith and Jada Pinkett Smith, President Barack Obama, and more.
So it's no surprise that Miranda drew quite the reactions for his Tonys acceptance speech, which opened about his wife Vanessa, then centered on the Orlando tragedy, with a powerful refrain of "Love is love is love is love." Here's what fans had to say:
In case you missed it, Miranda began by thanking his wife, after which he continued:
Senseless acts of tragedy remind us that nothing here is promised, not one day. This show is proof that history remembers. We live through times when hate and fear seem stronger. We rise and fall and light from dying embers, remembrances that hope and love last longer.
Crying, he continued: "Love is love is love is love... cannot be killed or swept aside."
His speech was permission for confused, frustrated, and scared fans to cry at the end of the long day; to feel the need to celebrate love and life more strongly, more passionately, and more loudly than ever before. It was a beautiful sonnet that summed up the emotions of a world in a year that seems frightening and overwhelming while remaining progressive and promising.
Can we just crawl inside Lin-Manuel Miranda's brain and live in there for a little while, please?