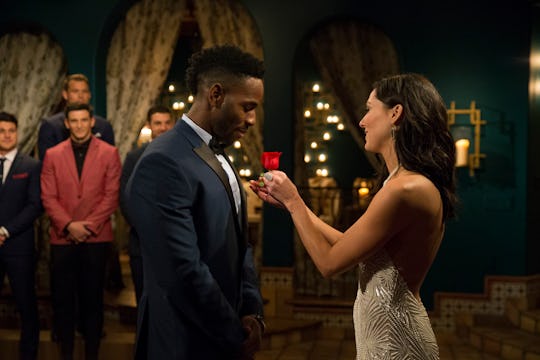 Paul Hebert/ABC
This 'Bachelorette' Contestant Thinks The Earth Is Flat -- Yes, Really
Well, it was bound to happen sometime: there is now a flat-earther on The Bachelorette. That "honor" is bestowed upon Lincoln, an already controversial candidate. Lincoln is a flat-earther and The Bachelorette fans did not hesitate to make fun of him on Twitter.
This conversation seemed to come out of nowhere (and it's one of those times I wish The Bachelorette had a Big Brother-style model of having cameras on at all times, but I digress). Becca and the contestants jetted off to Utah and they're all now in a cabin. While Becca was on a one-on-one date with Garrett, I can only assume that the other men were bored and got to talking about philosophical stuff. Like, you know, the earth being... flat?
The show cut from the date to Lincoln explaining to the other guys how he believes the earth is flat. Yes, really. He believes planet earth is completely flat. He just doesn't understand how water wouldn't fall off if it were round — his words, not mins.
Umm, Lincoln, I hate to break it to you but that is gravity. Yet he also thinks no one can fall off the earth because of... look, like every conversation with a flat-earther, it makes no sense. Thankfully, none of the other men were really entertaining it or on his side. There were some very gif-able shots of them looking confused and incredulous, so I look forward to seeing those on Giphy very soon.
While fans may have to wait for gifs, they certainly don't need to wait to see how other fans reacted to this conversation. The tweets are hilarious — if not alarming to some other information about Lincoln that Bachelor Nation is now privy to:
Unfortunately, this is far from the worst thing viewers know about Lincoln now. Lincoln was found guilty of indecent assault and battery for groping and assaulting a woman in 2016. Jake Wark, the Press Secretary for the Suffolk County District Attorney's Office in Massachusetts, released a statement about Lincoln's sentencing to Reality Steve:
Mr. Adim was convicted on May 21, 2018 of indecent assault and battery for groping and assaulting an adult female on a harbor cruise ship early on May 30, 2016. He was sentenced to one year in a house of correction, with that term suspended for a two-year probationary period. The judge ordered him to stay away from the victim and attend three Alcoholics Anonymous meetings per week during those two years. If he complies with the judge's orders, he will not have to serve out his term, but if he fails to comply with those orders or re-offends, he could be ordered to serve out the year behind bars.
What's truly horrible about this situation is that not only is Lincoln a convicted sex offender, but apparently The Bachelorette's production team had "no knowledge" of it (I mean, I suppose if they did know and had Lincoln on the show would be so much worse, but this is still a huge oversight). Warner Bros. released a statement that said: "No one on The Bachelorette production had any knowledge about the incident or charges when Lincoln Adim was cast, and he himself denied ever having engaged in or having been charged with any sexual misconduct."
Warner Bros. assured that they "employ a well-respected and highly experienced third party who has done thousands of background checks consistent with industry standards to do a nationwide background check in this case," and that they are currently investigating the matter, but this is arguably the biggest scandal of the season (bigger than Garrett's gross social media "likes," which was also an oversight on production's part).
As of Monday's episode, Lincoln is still on the show. Not only do fans now know he convicted of assault, but he is also a flat-earther. Seriously, can Becca kick him to the curb yet?