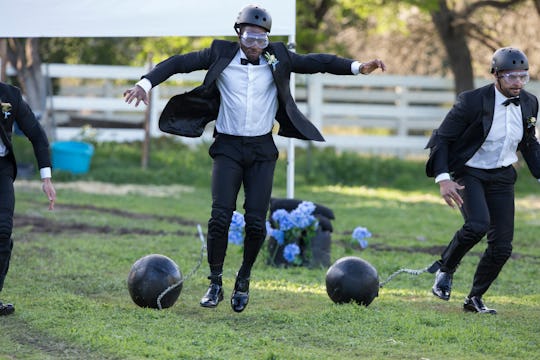 Paul Hebert/ABC
Here's What Lincoln's Pre-'Bachelorette' Instagram Tells Us
An early fan favorite on Becca's season of The Bachelorette quickly became a source of controversy and one half of the season's first official feud. We first met Lincoln Adim during Arie Luyendyk Jr.'s "After the Final Rose" special, when Becca was announced as this season's Bachelorette just weeks after a devastating breakup that was broadcast for all of Bachelor Nation to see. Fans collectively swooned over Lincoln's accent when he showed up as part of a sneak peek at Becca's guys, but Lincoln's Instagram before The Bachelorette belies his slick and savvy charm.
According to Lincoln's ABC bio, he hails from Nigeria (hence, sexy accent), but moved to Boston as a teenager. He then attended the University of Kentucky before moving back to Boston and, eventually, out to Santa Monica, where he works for Oracle. And even though Lincoln has perfectly coiffed hair, an even more perfect body, and can wear the f*ck out of a suit, he actually doesn't have the meticulously curated Instagram feed that we typically see out of Bachelor/Bachelorette contestants. He really does set himself apart from the usual fitness bros and male models who compete on the show. In fact, he only has around 8000 followers, and spotty Instagram activity at best.
Lincoln didn't post for over a year between September of 2014 and November of 2015. Similarly, he only posted six times in 2016. He didn't become super active until around the end of 2017 and going into 2018 — in other words, around the time Bachelorette casting would have begun. Since his time on the show, however, his posts have become much more frequent, including, yes, a bunch of gym/fitness posts, but also plenty of pics with his mom, throwback posts from Bachelorette filming, and travel pics. So, standard fare for Bachelorette contestants.
As we've seen from another Instagram controversy this season, however, a light social media presence may actually be more prudent for contestants on the show. Garrett, lucky recipient of the season's first impression rose, and thus, the projected favorite to win (first impression roses statistically go to the dudes who are likely to propose at the end), found himself in hot water with Bachelor Nation early on due to some alleged shady Instagram behavior.
Eagle-eyed fans noticed that Garrett allegedly had a history of liking transphobic and anti-feminist memes, as well as posts accusing Parkland students of being crisis actors. As Huffington Post pointed out:
On the Merica Supply Co. page, [Garrett] consistently liked memes that mocked feminists and transgender people and made light of violence against undocumented immigrants. One image his account liked appears to ridicule "leftist women" for being fat; another jokes about U.S. military addressing undocumented immigration by throwing small children over the border wall.
He subsequently deleted his Instagram account and created a new one, posting an apologetic statement which read, in part:
[I] am taking steps to grow, become more educated, and be a better version of myself. I am not perfect, and I will never be anywhere close, but now I will always be more informed and aware of what I am liking and supporting, not just on Instagram, but in life.
Editor's Note: The Instagram post has since been deleted.
Lee, a contestant from Bachelorette Rachel Lindsay's season who wound up engaging in some pretty racist behavior on the show, found himself in a similar position last season, when a history of his racist tweets surfaced. It, along with Garrett's alleged Instagram behavior, sparked a conversation amongst fans about the responsibility Bachelor producers have to protect their leads — and honestly, this tends to be more of a problem for Bachelorettes — from contestants who engage in hateful, bigoted behavior online. Luckily, controversies about Lincoln seem to lie, uh, elsewhere in his history, so at least we don't have to worry about a problematic Instagram past.