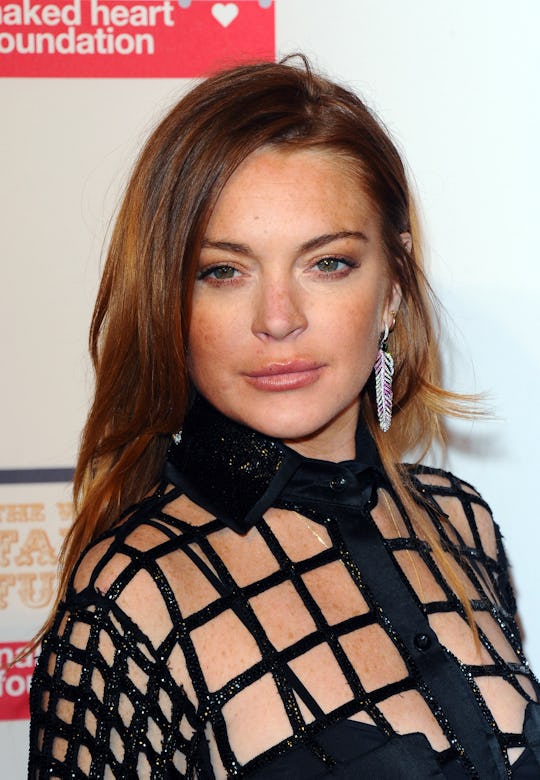 Stuart C. Wilson/Getty Images Entertainment/Getty Images
Lindsay Lohan Says She Left Her Fiance For This Terrible Reason
Just like much of her adult life, Lindsay Lohan's relationship with her now-ex- fiancé, Russian trust fund kid Egor Tarabasov, was, in a word, tumultuous. But after months of explosive fights and confounding social media posts transmitting from Lohan's feeds, it's over — and a tell-all interview the actress granted to a Russian TV station that aired Wednesday evening offers salacious, shocking details about what allegedly went down. In it, Lohan says she left her fiancé because of fears that he would attack her after an alleged physical confrontation this summer, and accused Tarabasov of offenses like forcing her to buy her own engagement ring and allegedly physically abusing her.
Russia's Channel One reportedly paid Lohan the equivalent of $840,000 to submit to the televised interview about her relationship with Tarabasov, whose wealthy father owns a Moscow-based construction and transportation company. If that's true, it may diminish the credibility of Lohan's account to her most vehement critics, even though some of the alleged trouble between the 30-year-old former child star and Tarabasov is actually well-documented.
Take, example, the couple's very public fight on the balcony of their London apartment in July, during which Lohan screamed that Tarabasov, now 23, had allegedly strangled and tried to kill her, The Sun reported. That fight is the source of Lohan's newest allegation and purported reasoning leaving him, as she told Channel One.
"I went to bed, and he broke into my house," Lohan told Channel One of the incident. "He started strangling me. I feared that Egor may splash acid in my face. I jumped out to the balcony and shouted with all my force, 'He's trying to kill me, call the police!' I am lucky to come to Moscow to speak." (You can watch the whole interview here, but be warned: It's in Russian.)
But Tarabasov denies any wrongdoing — including, apparently, that he violently fought with her on a Greek beach this summer, during a trip that was meant to celebrate her birthday and of which The Daily Mail published a series of upsetting photos.
In a statement to the same outlet in the wake of the Channel One interview, Tarabasov characterized her story as a "smear campaign," and dismissed the previous media reports about him as "distorted facts" and "false accusations", saying:
I decided not to address those harmful and false statements at that time. As an international businessman, I aim to maintain a low profile and concentrate on developing my business. I also chose to keep my silence out of respect for Lindsay.
Today, I would like to state that all accusations made, and about to be made, by Lindsay against me are not true.
I refuse to be dragged into the media storm created in the aftermath of our breakup. I will not be making any more statements with regards to my former relationship with Lindsay, but I will use all possible legal means to protect my name and reputation.
Before the pair officially broke up in July, Lohan uploaded some cryptic and concerning since-deleted posts to Snapchat, Twitter, and Instagram, begging Tarabasov to come home and accusing him of cheating on her with a "Russian hooker," People reported. She also shared a picture of of him with his face scribbled out, and even appeared to announce that she was pregnant (her spokesperson soon declined to confirm that).
It's impossible to know for sure who is telling the truth and who may be covering up in this situation (or what combination of truth and falsehoods are coming from each party, if any), but it's clear that Lohan's relationship with her former fiancé was toxic and no good for either one of them. For them to have called off the engagement, regardless of what happened or didn't happen, appears to definitely have been the right choice.