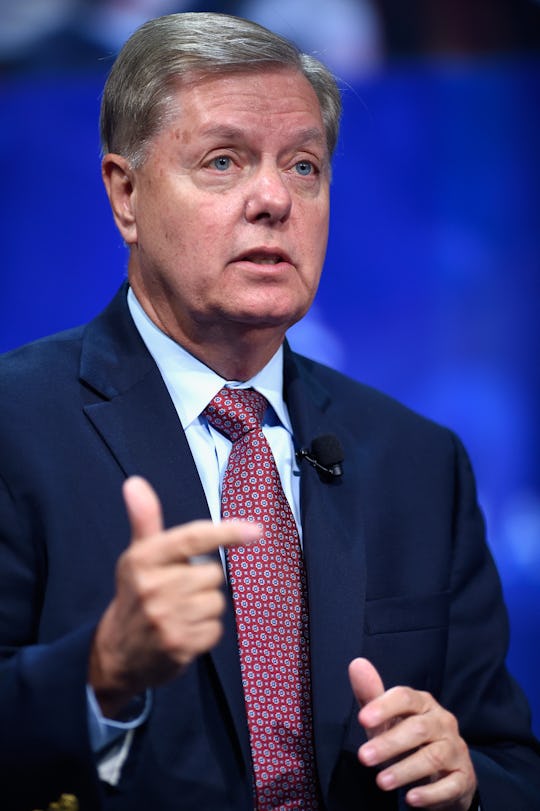 Riccardo Savi/Getty Images Entertainment/Getty Images
Lindsey Graham Says Russia Hacked His Campaign Email, But Didn't Sway The Election Result
Adding to the CIA's reports that the Russian government may have interfered with this year's election to help Donald Trump become the next president, now former Republican presidential candidate Lindsey Graham says Russia hacked his campaign email account as well. The South Carolina senator's reported claim adds to a growing list of high-profile political figures' online accounts that U.S. intelligence officials believe may been tampered with by Russian hackers, following months of speculation that the reported hackings may have had something to do with the 2016 presidential election. But in an interview with CNN's Wolf Blitzer on The Situation Room, Graham said that he doesn't think the security breach swayed the results at all and believes the outcome is authentic.
"They hacked into my campaign account," Graham told CNN's Wolf Blitzer, adding that he believes Russia also hacked into the Democratic National Committee's accounts as well as John Podesta's, Hillary Clinton's former campaign chairman. "Our campaign vendor that we used was hacked. We were told by the FBI in August that we were hacked in June."
Earlier this month, the U.S. intelligence community did conclude with "high confidence" that Russia was behind the hacking activity that targeted several Democrats in Washington D.C. But according to Time, the president-elect believes these findings are wrong, saying the evidence is inconclusive.
Sixty-one-year-old Graham added that while the intelligence community has confirmed the numerous hackings, he doesn't believe the Russian infiltration affected this year's elections:
I do believe that all the information released publicly hurt Clinton and didn't hurt Trump. I don't think the outcome of the election is in doubt. What we should do is not turn on each other but work as one people to push back on Russia. I think Hillary Clinton lost because she wasn't an agent of change and she tried to disqualify Trump and she wasn't able to do it. This is not a Republican or Democratic issue.
Graham told CNN that he believes the Russians are trying to "destabilize democracy all over the world," not only in the United States. "We should tell the Russians, in uncertain terms, you interfered in our elections, we don't care why," he said in the same interview. "We're going to hit you and hit you hard."
Graham — who had encouraged other Republicans to un-endorse Trump, as Politico reported — said that the president-elect denying reports that Russia hacked American political systems to try and influence the election is maybe because he "isn't being briefed properly on the information, or maybe he doesn't want to know," according to the CNN interview.
According to NBC News, U.S. intelligence officials believe with "a high level of confidence" that Russian President Vladimir Putin was personally involved in the hackings to help get Trump into the White House. Meanwhile, Trump has officially chosen Exxon Mobil CEO Rex Tillerson, who has deep ties to Russia and a long relationship Putin, to be his secretary of state and continues to discredit the hacking claims.
In a matter of weeks, on Jan. 20, Trump will soon be sworn into office. It's likely that the concerns surrounding these reported cyber attacks will continue to loom over the nation.