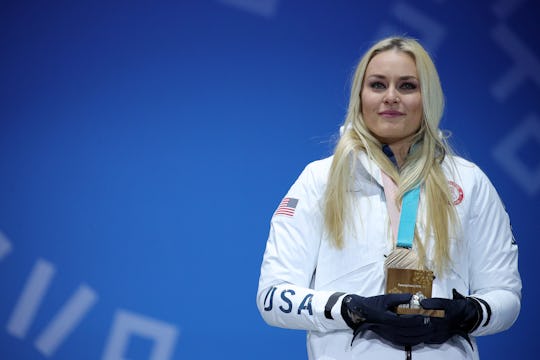 Andreas Rentz/Getty Images Sport/Getty Images
Lindsey Vonn's Injury History Shows Just How Hard She's Worked For Her Olympic Success
You really can't deny the talent that Olympic athletes possess — Olympic athletes are the best of the best who are chosen to represent our country's top athletes. And if you've ever watched American skier Lindsey Vonn on the ski slopes, then you know why she's such an incredible athlete based on her performance alone. But when she isn't going for Olympic medals, everything hasn't always been so golden for Vonn — Vonn's injury history shows that a lot of hard work (and even a few broken bones) have gone into achieving greatness.
The 2018 Winter Olympics in PyeongChang, South Korea likely marks Vonn's last Olympics, according to Vanity Fair. At 33-years-old, Vonn is now the oldest woman to have medaled in Alpine skiing, her signature event, after winning the bronze medal on Tuesday, according to Vulture. Vonn still has one more event to compete in on Thursday — combined alpine skiing, according to CBS News — but she is already getting emotional about how this might be her last Olympics, according to Vanity Fair.
And Vonn opened up in an interview with NBC all about this after skiing on Tuesday. "I wish I could keep going, you know," Vonn said, according to Vanity Fair. "I have so much fun, I love what I do. My body probably can't take another four years but — I don't know — I'm proud."
What Vonn is talking about is all of the injuries she has faced from her sport — and her injury history shows that, while her possible retirement is a little sad (OK, really sad), she's protecting herself for a good reason. Injuries are not easy especially since alpine skiing ranks up there as one of the most dangerous Olympic sports, according to The Guardian.
Broken Arm
In November 2016, Vonn "severely broke" her right arm during a ski accident in Colorado, according to Entertainment Tonight, while she was training for the World Cup, putting her season on temporary hold. Vonn called the injury "beyond frustrating" at the time and the photos she shared of her injury to Facebook look brutal.
Knee Injuries
Vonn's first injury, according to the Los Angeles Times, was in February 2013, when she tore her knee ligaments and fractured her knee on top of it. Vonn bounced back from that, according to the Los Angeles Times, winning at the 2014 World Cup. After that injury, according to The New York Times, Vonn also had to go through substantial knee reconstructions. In addition, Vonn also fractured her tibia plateau on her right leg and "ripped her medial collateral ligament right off the bone," according to TODAY all throughout her extensive skiing career. These were in the injuries that made her sit out of the 2014 Sochi Winter Olympics, according to ESPN, so she could recover.
In addition to fracturing her arm in 2016, Vonn also experienced a devastating knee injury, according to CNN, in February of that same year. Vonn crashed during a super-G competition, according to CNN, and was left with a hairline fracture of her left knee. This injury hurt her World Cup standings at the time, according to CNN, and led to her ending her season early that year so she didn't damage her bones or legs even further.
Additional Injuries
Vonn is definitely a trooper — in addition to her assorted leg injuries and broken arms, Vonn has also suffered from numerous concussions, according to TODAY and even sliced her thumb on an open champagne bottle. But in spite of all of this, Vonn has not seen these things as setbacks. Vonn explained to TODAY:
I know what my body is capable of. And that kind of strength you can't quantify. That gives me so much more confidence when I'm on the hill because I have that belief in myself and that strength.
Vonn has certainly shown that strength both on the ski slopes, where she continues to succeed, and off the ski slopes during the period of time when she recovered from her injuries.
Check out Romper's new video series, Romper's Doula Diaries:
Watch full episodes of Romper's Doula Diaries on Facebook Watch.