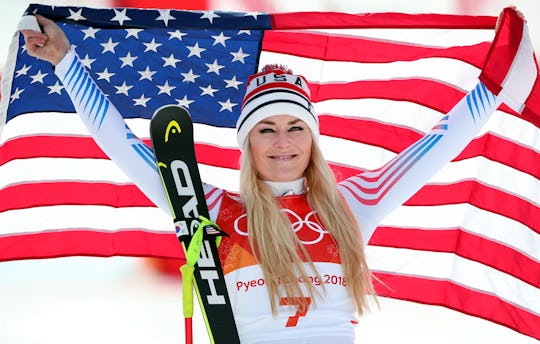 Tom Pennington/Getty Images Sport/Getty Images
Lindsey Vonn's Parents: Here's What You Need To Know About Who Raised The Olympic Skier
The 2018 Winter Olympics are starting to come to a close and it's been an eventful year for many athletes, but especially so for Olympic skier Lindsey Vonn. After learning that Vonn's bronze medal win in the women's downhill on Wednesday might mean her last time competing in the Winter Games, fans are certainly sad to see her go. But, as the 33-year-old potentially gets ready to say goodbye to the Olympics, people are surely curious about how she got to where she is and who exactly Lindsey Vonn's parents are.
Vonn's parents, Linda Lund and Alan Kildow, had been cheering on the Olympic medalist while she competed her heart out at the Winter Games in PyeongChang, South Korea, as Heavy reported. However, after Vonn snagged a bronze medal at her age — "the oldest ever for an alpine skier," according to the New York Daily News — her father reportedly wasn't impressed with her win. Kildow told USA TODAY Sports after his daughter's win on Wednesday, "It's great skiing, but it reminds me of something that Buddy Werner used to say,'' referring another U.S. Alpine skier decades ago. He added, "He said there's two places in the race, first and last, and I only want one of them." Yikes. Parents, am I right?
Although his comments may have come off as harsh, Vonn's father's criticism doesn't come without some experience in the sport to boot. As Heavy reported, Kildow was also a skier and actually taught his daughter the sport when she was very young.
Unfortunately, though, Vonn and her father didn't speak to each other for many years, according to the New York Daily News, and only "recently reconciled ... after more than a decade of tension and little communication."
Now, despite his comments, it appears as though they're back on good terms and here's what you should know about who raised the talented Olympian.
Her Relationship With Her Dad Has Been Complicated
As previously mentioned, Vonn and her father weren't on very good terms after Vonn married her now-ex-husband, Thomas Vonn, also a skier, back in 2007. According to Heavy, that break in the father-daughter relationship had a lot to do with their nine-year age difference. "Lindsey didn't invite her father to her wedding," Heavy reported. "Her grandfather, Don, walked her down the aisle. She didn't speak with her father for several years."
But looking at her recent Instagram photos, it looks like the two are back on better terms now and part of their reconciliation had to do with Vonn's late grandfather.
Vonn's Grandfather's Death Brought Her Closer To Her Dad
Vonn's grandfather sadly passed away on Nov. 1, 2017 of natural causes, according to USA Today. Vonn was devastated, as her grandfather, Don Kildow had always been one of Vonn's biggest supporters and reasons she got into skiing. However, it appears that her grandfather's passing did allow Vonn and her father to get back in touch and work on their relationship.
Vonn Appears To Be Very Close With Her Mom
Vonn and her mother definitely appear to be very close. In a P&G commercial about her mother, she explained her mom's health issues, but how she never got down about them:
My mom's really tough. She had a stroke when she gave birth to me. I've never once heard her complain about it, and she always taught me no matter what the situation is I can overcome it.
Clearly, Vonn treasures her relationship with her mom, and now, also with her relationship with her father. Being an Olympic athlete can't be easy, and Vonn has had some amazing support behind her to help her accomplish all that she has (including a gold medal and another bronze).
Check out Romper's new video series, Romper's Doula Diaries:
Watch full episodes of Romper's Doula Diaries on Facebook Watch.