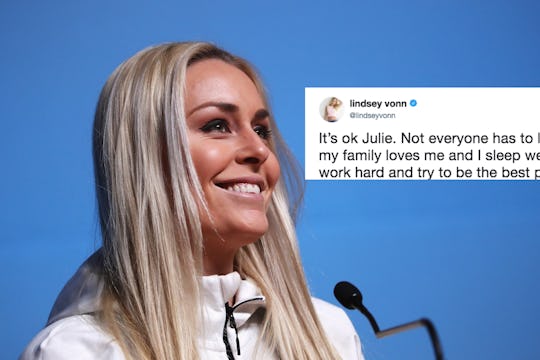 Ker Robertson/Getty Images Sport/Getty Images
Lindsey Vonn's Response To Trump Trolls After Her Olympic Loss Proves Why She's A Champion No Matter What
Olympic skier Lindsey Vonn faced an onslaught of nasty tweets over the weekend after she failed to medal in her first event of the 2018 Winter Olympics. Most of the hateful comments referenced remarks Vonn made in December about President Donald Trump in December. But the social media outrage from Trump supporters didn't bring the gold medalist down. In fact, Lindsey Vonn's response to Trump trolls after her Olympic loss proved why she's a champion in the first place.
Despite a killer effort, Vonn finished in sixth place in the Super-G speed event on Saturday, after a mistake near the end of her run slowed her down, according to USA Today Sports. The two-time Olympic medalist brushed off her shoulders after the loss, noting in an interview with NBC that she "gave it everything" she had, so she had "no regrets," USA Today Sports reported.
Not surprisingly, Trump supporters saw her loss as an opportunity to attack the Alpine skier on Twitter, calling her failure to medal "karma" for her criticisms of Trump. Vonn, being the bad ass winner she is, didn't let it get to her. Instead, she responded to the trolls with a grace and pose true of an Olympian.
Reporters asked Vonn on Monday whether or not she planned to hold back her opinions after being attacked on social media over the weekend, according to CBS News. Vonn, who just finished her third-fastest downhill training run, answered,
No, that's what bullies want you to do: They want to defeat you. And I'm not defeated. I'm the same. I stand by my values. And I'm not going to back down. I may not be as vocal right now with my opinions, but that doesn't mean that they've won, you know? I haven't changed my mind.
You hear that, trolls? The 33-year-old Olympic skier is not defeated.
That's not the first time she shut down her attackers. Vonn took to Twitter on Sunday to respond to a tweet by Julie Foudy, former U.S. women's national soccer team captain, who shared a message of support for the gold and bronze medalist, according to Huffington Post. Foudy had spotted the detestable messages and posted to Twitter,
I just spent last 20 min's reading thru tweets directed at @lindseyvonn. Sickened & disgusted once again by the lack of humanity that engulfs our country. She just raced her damn heart out & Trump supporters gloat/cheer/celebrate her inability to medal. Is this what we've become?
Vonn, who won two medals at the 2010 Winter Olympics in Vancouver, tweeted in response to Foudy that, "Not everyone has to like me but my family loves me and I sleep well at night," Huffington Post reported. Talk about savage.
The drama started back in December, when Vonn told CNN that, as a member of the U.S. Olympic ski team,
I hope to represent the people of the United States, not the president.
She continued, according to CNN,
I take the Olympics very seriously and what they mean and what they represent, what walking under our flag means in the opening ceremony. I want to represent our country well. I don't think that there are a lot of people currently in our government that do that.
Vonn, who is one of many Olympic athletes who spoke out against Trump, also said she would "absolutely not" go to the White House if she were invited. (Honestly, who can blame her?)
Of course, her comments enraged Trump supporters, who attacked her for standing by her principles. But the joke's on the MAGA troll crowd because Vonn is playing in the Winter Olympics and they're not, so #sorryaboutit.
Check out Romper's new video series, Bearing The Motherload, where disagreeing parents from different sides of an issue sit down with a mediator and talk about how to support (and not judge) each other's parenting perspectives. New episodes air Mondays on Facebook.