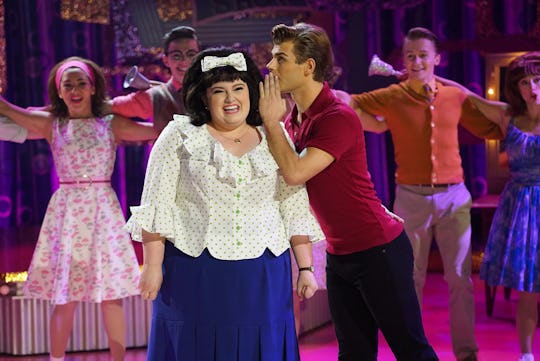 Chris Haston/NBC
'Link's 'Hamilton' Reference In 'Hairspray Live!' Was A Subtle Nod At The Blockbuster Show
With the way Hamilton blew up in the past, it's no surprise that everyone, from singers to TV shows, are making references to Lin-Manuel Miranda's blockbuster hit. Therefore no one was really surprised when Link made a Hamilton reference in Hairspray Live!. After Link, Tracy, and Penny followed Seaweed to his family's part of town and met his sister, Little Inez, and mom, Motormouth Maybelle, Tracy was ready to start a revolution. Upset that Seaweed and his friends couldn't dance with her on The Corny Collins Show and only had Negro Day, Tracy felt it was time the show was integrated and came up with a plan.
The plan was to have everyone march onto the show with Motormouth Maybelle and Little Inez leading the way, during Mother/Daughter Day. Tracy was sure Link and some of the other white dancers would back them up, but that's when Link confessed he wouldn't be joining them after all. Unlike Tracy, Link didn't believe he could do anything else other than be on The Corny Collins Show. Without the show, his future would be in jeopardy and that's when he dropped the famous Hamilton line.
"I can't throw away my shot," he told Tracy emphatically before turning around and leaving her behind. Naturally, Hamilton and Hairspray fans noticed the reference and while some loved the intentional wink, others didn't feel the same.
Whether you loved or hated the moment, there's no doubt that the nod was there and I, for one, was a fan. The stars of Hamilton have yet to weigh in on how they feel about the shoutout, but knowing Miranda he'll probably be over the moon about it. As a theater geek himself there's no doubt that even if he didn't watch the show live he'll watch it at some point and hear the reference for himself. Before that though, his fans have definitely already let him know about and it'll be fun to see how he reacts to the shoutout.
Despite the amazing reference, fans were still disappointed that Link didn't support Tracy, even though anyone that's seen Hairspray (in any format) before now, knew this turn of events would happen. It didn't make the hurt of Link's betrayal any less painful to witness though. Thankfully, fans also knew that Link would later make up for his indiscretion and that was enough to keep everyone's faith in Link alive.