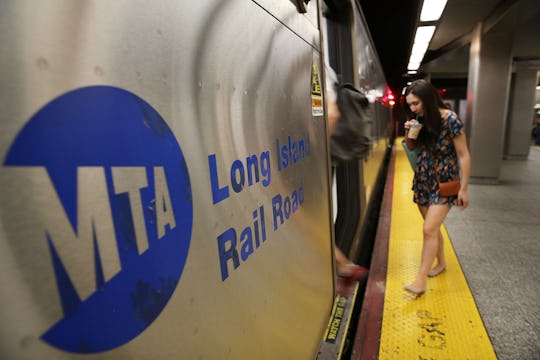 Spencer Platt/Getty Images News/Getty Images
LIRR Train Derailment Leaves Over 20 Injured
On Wednesday, more than a dozen people in New York were injured in a LIRR train derailment at Brooklyn's Atlantic Terminal on Flatbush Avenue. The derailment occurred at approximately 8:20 a.m. local time, according to NY1 News. At present, more than five dozen people have been injured, according to the New York Fire Department, stating on Twitter that none of the injuries were life-threatening in Wednesday's derailment. The cause of the LIRR train derailment has not yet been determined, according to NY1 News. Wednesday's derailment comes after an LIRR train derailed near New Hyde Park Station in October of last year. Thirty-three people were injured in the incident. Representatives from the Metropolitan Transit Authority were not immediately available for comment.
The derailment occurred during the morning rush hour at one of Brooklyn's busiest MTA stations: The Atlantic Terminal is the furthest westernmost stop on the Long Island Railroad and is considered a major transit hub. Passengers on the scene posted a number of pictures and videos of the derailment on social media, showing the train tipped to the side and shattered windows. The train derailed on track 6, and social media posts showed dozens of emergency responders assisting passengers as smoke filled the track area.
At a press conference with NYFD officials, New York Gov. Andrew Cuomo said that the LIRR train was supposed to stop at a bumper, but didn't. The train then crashed through a wall into an adjacent room after failing to stop at the end of the track. Cuomo noted that the most serious injury was a broken leg.
The MTA has alerted travelers in the area to expect major delays, including drivers traveling near the Atlantic Terminal area on Flatbush Avenue, as emergency crews and investigators remain on the scene. Other rail lines could also be affected, according to the MTA.
According to the MTA, the Long Island Railroad serves more than 80 million passengers annually and is both the largest and oldest commuter rail service in the nation, with 124 stations and 11 rail lines. On any given weekday, more than 300,000 passengers use the LIRR. In 2013, the MTA approved a $1.8 billion contract with Kawasaki for the production of more than 600 new rail cars for the LIRR and Metro-North rail lines.
On Monday, MTA chairman Tom Prendergast announced his retirement from his position, having served as chairman of New York State's public transit network since 2013. Prendergast also served as the president of the LIRR in 1994.