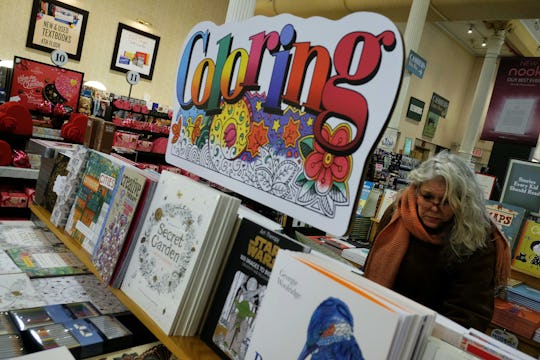 JEWEL SAMAD/AFP/Getty Images
Lisa Frank Adult Coloring Books Are Real & You Definitely Need One
I will say that adult coloring books seem a little odd (what's wrong with the kid ones?), but Lisa Frank adult coloring books are real and I am all about that life. Frank is the queen of sparkles and unicorns and rainbows and any self-respecting '90s child will remember stocking up on binders and notebooks and Lisa Frank pencils as a kid. Break out the crayons and you do not have to share with your kids (unless you want your daughters to be even cooler than you were).
The coloring books will be available at Dollar General stores for $3, according to USA Today. People are pretty excited about it, too. The thing is though, is that Lisa Frank has been here all along. Her Facebook page is a source of daily joy for me, with positive posts of unicorns and pandas telling you that you're beautiful and you'll make it through the week. Same for her Instagram. I mean, it wouldn't kill you to follow her. It's better than the Fat Jewish and Goop, for sure.
Frank is also an interesting character. Despite her name recognition and iconic brand, there are very few pictures of her circling around the Internet. She's really private.
In a rare, 2012 interview with The Daily Dot, Frank said that in her "own little way", she "understood Michael Jackson" when it came to fame. "If I use my credit card… and they go 'Oh my gosh, there's Lisa Frank who makes the stickers!' I go, 'Isn't that the craziest thing that I have the same name?'" she added. Which is hysterical, because I'm pretty sure I would have said the same exact thing when I was working behind a register (Sorry, Ms. Frank).
According to Jezebel, there has been some trouble in Frank's empire. At its peak, the company was making around $60 million a year. That number has since dropped to $6.2 million a year, according to a recent report by financial research company Dun & Bradstreet. Total. A source told Jezebel, "They could have caught on with the hipster market, but in order for a company to really turn a corner in those kind of things, they need compassionate leadership and people who appreciate and can nurture talent."
Now with social media campaigns and adult-crafts galore, it looks like Frank is trying to make that comeback — and it probably couldn't have come at a better time. The adult coloring book market is officially at a "craze" level, according to Forbes.
Hopefully the coloring books do well and there will be more fun stuff coming soon. Nothing says back to school like panda stickers.