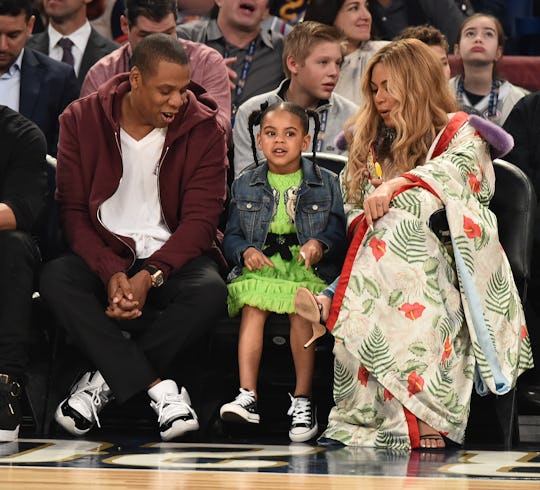 Theo Wargo/Getty Images Entertainment/Getty Images
Yes, Blue Ivy Raps On '4:44' & It's Just Too Incredible
It's finally here. Most fans knew it would come, but we finally have real audio of Blue Ivy rapping on a 4:44 bonus track, and it's exactly as amazing as we expected. JAY-Z released the full track, called "Blue's Freestyle/We Family," on Apple Music and iTunes along with his full album late Thursday night. Though Blue Ivy is 5 years old and you can't make out exactly what she's saying in every line, there are some really incredible moments, like when she says "Never seen a ceiling in my whole life." Yes, she actually says that.
According to Teen Vogue, the refrain of the song is ""Boom shakalaka, boom shakalaka / everything in shaka, everything in faka." Genius took a stab at getting down most of the lyrics, and there seem to be only a few words that it couldn't make out. You can listen to the full intro below these lyrics in DeRay Mckesson's embedded tweet:
Everything everything this my only single thing
Everything I hear is my answer
And if you think I say, then [?]
I never hear that, I be in the posse
Never seen a ceiling in my whole life
Everything I seen, everything is rotten
Never sit in silence [?] Carter
Innocent we seek them
I and say we see them [?]
Boom shakalaka
Boom shakalaka
Boom shakalaka
Boom shakalaka
Everything in shaka
Everything in faka
Everything in shaka
Everything in faka
According to Teen Vogue, this is Blue's third formal appearance in her parents' music. Her first was on JAY-Z's 2012 song "Glory," and her second was in 2014 on Beyoncé's song "Blue." But Teen Vogue left out that Blue Ivy also appears briefly at the end of Beyoncé's "Daddy Lessons" on Lemonade. She only has a quick line — "Good job Bey!" — but still, I'd take a tiny, three-word cameo on a Beyoncé song any day.
And apparently this isn't the only bonus track that JAY-Z released as a part of the album. The other two tracks are "Adnis," which we've already received a review video for, and "ManyFacedGod," which features James Blake, according to XXL. But what isn't clear is where exactly you need to go to hear the tracks. They aren't available with the rest of the track list on iTunes. Consequence of Sound reported that the only way to get the three new bonus tracks is to purchase the physical album. OK, JAY-Z, we get the whole old school thing, but really? Who buys CDs anymore? Ugh. This might be the first CD I've bought in five years. But at least Blue is on it.