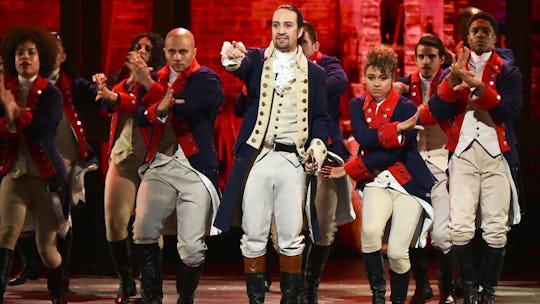 Listen To "My Shot" From The 'Hamilton' Mixtape & You'll See Why Twitter Is Freaking Out
Get ready to hear all of your favorite artists in one place, and I'm not talking "Now That's What I Call Music 2016." Sia, Kelly Clarkson, John Legend, The Roots, Usher, Wiz Khalifa, and Alicia Keys are just a few big names on Lin Manuel's new Hamilton Mixtape. The soundtrack is a compilation of covers and remixes from the musical. Manuel was so pleased with fans pre-ordering the mixtape, according to Entertainment Tonight, that he made two tracks from the set public. Too bad you have to wait a little longer to hear the rest of the music, because the mixtape doesn't come out until Dec. 2. But for now you can listen to "My Shot" from the Hamilton Mixtape, and see why Twitter is freaking out.
"I really wanted the hip-hop community to embrace Hamilton because it's such a love letter to them" Manuel stated about his hit musical. Embrace is an understatement to what society has done for Hamilton. In fact, considering that it's notoriously hard to get tickets, you can say that everyone has given this broadway show a giant bear hug. And having well-known artists lend their voices to the mixtape will only further people's connection with the music.
"My Shot [Rise Up Remix]" is sung by The Roots, and features Busta Rhymes, Joell Ortiz, and Nature Ruess. The song is inspirational and is a remix of "My Shot" from Act 1 of Hamilton. Vulture describes the song as "indeed a remix with brand-new verses for you to memorize and scream-rap ad nauseam at your friends until you have no friends left." The words are pretty easy to master, and the song itself is packed with Eminem vibes.
"I'm not throwing away my shot/ Yo, I'm just like my country/ I'm young scrappy and hungry" the lyrics read. "My Shot" is about struggle and overcoming obstacles. The repetitive nature of the song engrains opportunity in a listener's mind, and beckons listeners to basically go hard or go home. Make sure to take a listen here for your daily dose of inspiration.
The other pre-released song is "It's Quiet Uptown," performed by Kelly Clarkson. This song is the polar opposite of "My Shot." Clarkson gives us a tearjerker to balance out the driving force described above. Now, let's take a look at how Twitter feels about the new rap edition of "My Shot."
If you're anything like me, you'll have this song playing on repeat for the rest of time.