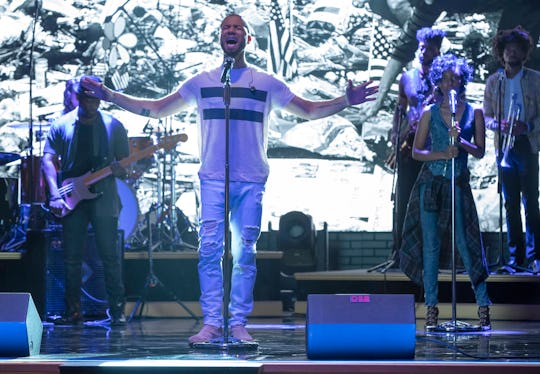 Chuck Hodes/FOX
Listen To 'Need Freedom' From 'Empire', Because The Message Is Extremely Important
Empire is an incredible show to watch for a lot of reasons, one of them being the original songs that drop week after week. For the first two seasons, Timbaland took the reigns as the show's songwriter; for season three, Rodney Jerkins and Ester Dean signed on for the task. They clearly were up to the challenge, as one song from Wednesday's season premiere was incredible powerful. Jamal sang a song called "Need Freedom" on Empire, and it's extremely important to listen.
Jerkins and Dean are certainly worthy successors to Timbaland. According to Billboard, Jerkins is a four-time Grammy winning songwriter and producer; Dean is an established songwriter and producer as well. Jerkins has written songs for pop icons Michael Jackson, Beyoncé, and Lady GaGa. Dean starred in Pitch Perfect and has written for queens like Rhianna and Nicki Minaj.
The first major song from Empire's third season, "Need Freedom," is a social commentary track about #BlackLivesMatter and police brutality targeting black people. "It started as 'Free Freda,' as she's locked up in jail," Jerkins told Billboard, "But once I sat down with Jussie [Smollett], we started talking about everything going on in the country."
Jussie Smollett, who plays Jamal, wanted to write about the country's current climate as well. He recorded the song a week after the shooting of Philando Castile. "Between the shootings of Castile, Alton Sterling, at the Pulse in Orlando and the police officers in Dallas — not to mention the other numerous killings over the last couple of years — it was like we couldn't breathe," he said in an interview with Billboard. "What are we doing as a people, a nation, what messages are we sending to the next generation. Then this song came."
Jerkins' and Smollett's feelings certainly translate in the song, which is a strong criticism for what's going on – and Billboard actually compared it to Marvin Gaye's classic social commentary song of the same name, "What's Going On." Unfortunately, during the premiere episode, Jamal was not able to perform the song due to the onset of a panic attack. Nonetheless, it was heard, both by the concert's audience and Empire's audience.
If "Need Freedom" is a sign of powerful and thoughtful songs to come, this season of Empire will have some of the series' best.