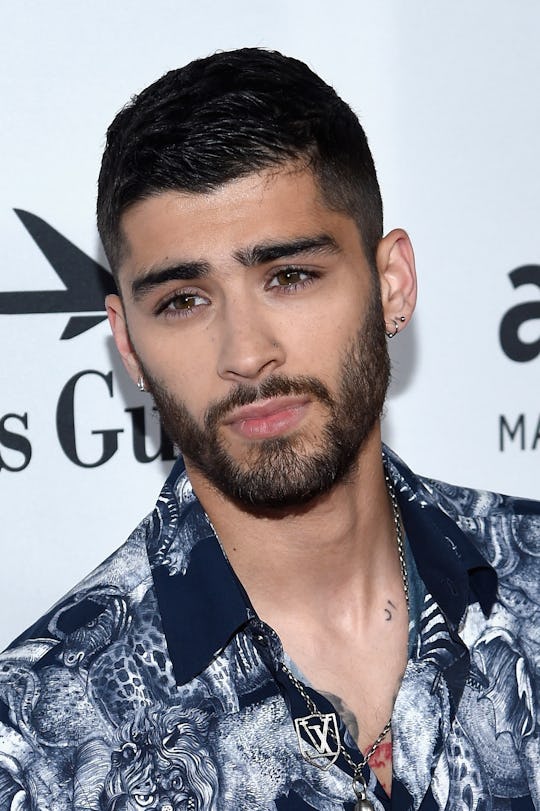 Dimitrios Kambouris/Getty Images Entertainment/Getty Images
Listen To Zayn Malik & Taylor Swift's 'Fifty Shades Darker' Song, 'Cause You Can't Miss It
Surprise, Taylor Swift fans! Your pop princess is back! The "New Romantics" singer just tweeted a teaser for her new song, " I Don't Wanna Live Forever," with Zayn Malik on Twitter Thursday night. The song is the first we've heard from her since her 2014 album 1989, and it was worth the wait. "I Don't Wanna Live Forever" is Swift's voice like we've never heard before. She sounds both breathy, and provocative alongside the "Pillow Talk" singer and former One Direction-er. You may be wondering how to listen to Zayn Malik & Taylor Swift's Fifty Shades Darker song below, but be careful, you might get addicted! The collaboration is the first single to drop from the Fifty Shades Darker soundtrack, which is slated to come out Feb. 10 through Republic Records. The full track is available to download here at iTunes.
The song is an original, a departure from the covers we've seen in past Fifty Shades trailers. Billboard discloses that "the song was written specifically for the feature film by Swift, Jack Antonoff & Sam Dew and produced by Antonoff." Prior to this song, a slowed down version of Beyoncé's "Crazy in Love" was covered by Miguel in the first film's teaser. And Queen Bey also sang a revamped version of her 2003 song to advertise the sensual book-turned film.
"Baby, baby, I feel crazy. Up all night, all night, and every day" Swift sings in the teaser, and she's not crooning about insomnia, as provactive scenes the film series is known for accompany her words. Her voice is softer, and higher-pitched than usual here. Zayn joins her in the song towards the end of the teaser, matching her voice modulation. According to The Guardian, "the song was #1 on the United States iTunes chart within an hour of its release."
As a promotion for the new track, Zayn posted a photo of the two on Instagram last night with the caption: #idontwannaliveforever. The former One Direction singer sticks his tongue out while holding a familiar cat, as Taylor pretends to be one in a black and white polaroid of the pair.
Editor's Note: The Instagram post has since been deleted.
You can currently listen to the song on iTunes as well as other music streaming services. Fifty Shades Darker hits theaters Feb. 10, just a few days before Valentine's Day.