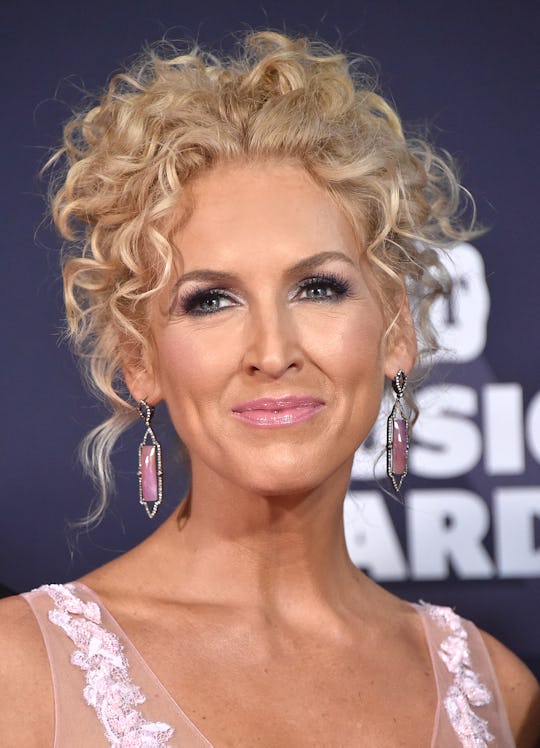 Mike Coppola/Getty Images Entertainment/Getty Images
Kimberly Schlapman Just Adopted A Baby!
Posting a sweet Instagram on Thursday, captioned "The New Year brought our family new love," Little Big Town's Kimberly Schlapman revealed she had adopted a baby girl. "We're so excited to introduce you to Daisy's little sister, Dolly Grace," Schlapman added to the post. Seeing as Schlaphman hadn't disclosed to her fans that she was looking to adopt, this comes as a huge, happy surprise. 9-year-old Daisy asked for a sibling for Christmas, according to the band's rep, so the new big sister must be over-the-moon about all of this, too. The representative also shared how the addition came to be, saying that a domestic adoption was to thank for the family's recent growth.
The 47-year-old singer's family unit hasn't always been so intact, having gone through a hardship of her own. Schlapman was able to find security with her current husband, Stephen Schlapman, after suffering a tragedy. Her first husband, Steven Roads, passed away from a heart attack, leaving her to grieve. Stephen was also grieving the loss of a friend as well, so, in a way, their own personal tragedies brought them together. The two married in 2006.
Schlapman's band, Little Big Town, reposted the image of her new daughter on its own Instagram profile, congratulating the family in saying: "Little Big Town just got a little bit bigger. Introducing baby Dolly. We love you angel." As you can see, the adorable family photo below is just brimming with joy:
Dolly Grace is definitely entering a loving family. On social media, Schlapman posts consistent, cute photos of the family's happenings, including festive mistletoe shots, super sweet cooking throwbacks, incredible family Halloween costume inspo, and heartfelt birthday tributes to her daughter. Somehow, despite her constant touring and hit-making, Schlapman has found time to celebrate the family she's so obviously proud of.
In addition devoting her time to music and family, Schlapman hosts "Simply Southern," a cooking show that has featured other country stars alongside delicious, down-home dishes. "I'm not a professional chef in any sense of the word," Schlapman has disclosed, "but when I was a little kid, I would stand at the counter and pretend I was a cooking show host." Schlapman also released Oh Gussie!: Cooking and Visiting in Kimberly's Southern Kitchen in 2015 — a cookbook of her favorite dishes.
Schlapman's little family has grown bigger, all with the support of her friends and fans. On Thursday's Instagram post, users were gushing with their congratulations and best wishes, all looking forward to more photos and features of Dolly Grace, the littlest member of Little Big Town.