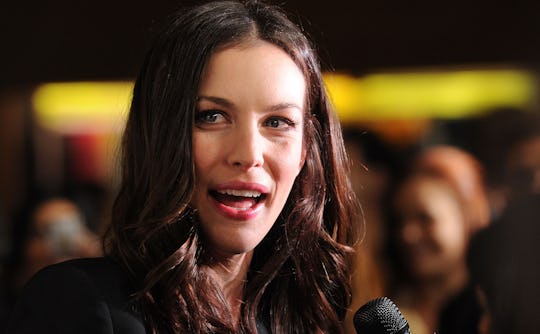 Jason Merritt/Getty Images
Liv Tyler Is Pregnant Again & Her Adorable Family Is About To Get A Little Bit Bigger — PHOTO
In an adorable Instagram post on Friday, actress Liv Tyler announced that she was pregnant with her third child. Tyler, who is best known for her roles in HBO's The Leftovers and Peter Jackson's behemoth trilogy Lord of the Rings, has two children, one-year-old Sailor with current partner David Garner, and 10-year-old Milo, with ex-husband Royston Langston. On Friday, Tyler shared the happy news by posting a photo of herself sporting a noticeable baby bump, coupled with the caption, "Oh my goodness, it seems the stork is visiting us again!!!"
Seriously — is there a cuter way to announce a pregnancy? I'm not sure there is. "I am growing another little Tyler Gardner in my belly," the actress wrote, quipping that her little family was "growing" and peppering the post with an appropriate amount of heart, rainbow, and unicorn emojis. "@davidgardner i love you."
The announcement came as something of a pleasant surprise, given that Tyler's son Sailor was born just one year ago in February 2015. But maybe pregnancy is just her thing — she's admitted as much before. "I love being pregnant," Tyler told Access Hollywood in an interview last year. "I'm very tall, so I'm comfortable when I'm pregnant ... I've been very blessed."
It's been a busy 12 months for the mother of two — scratch that, three — with Tyler effectively packing her schedule full with new projects and advocacy work (that's in addition to all that diaper changing). Still, the hectic pace is a definite departure from her previous engagement calendar, which Tyler told The Telegraph was a good thing.
"Ever since Milo was born, I haven't really been making many movies because I just can't imagine being away from home for long periods of time," the 38-year-old explained in a September 2014 interview. "[...] I'm completely devoted to Milo and our little family, no matter how eccentric it might seem to others."
So far, Tyler has kept the little tot's due date to herself, but it probably won't be long before the news makes its way to the rumor mill. For now, fans will have to get their fix browsing Tyler's ridiculously sweet Instagram for more family pics. Sigh.
Images: Jason Merritt/Getty Images; Liv Tyler/Instagram