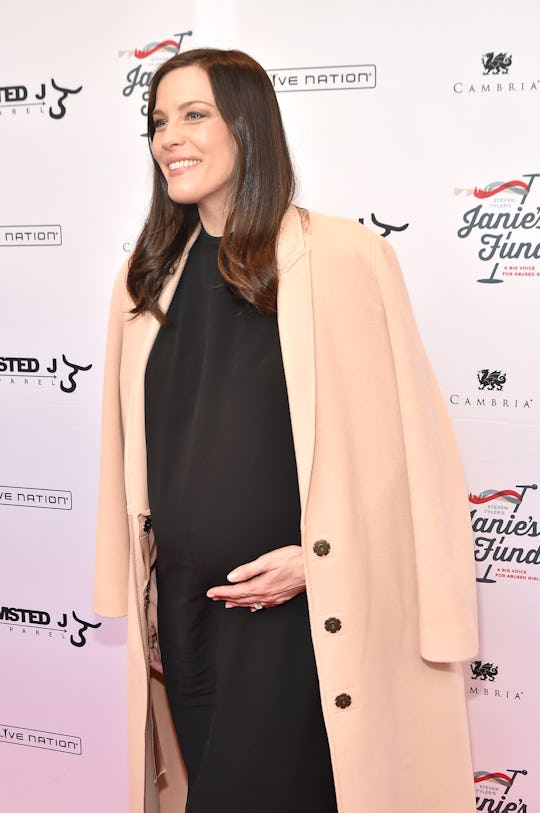 Theo Wargo/Getty Images Entertainment/Getty Images
Liv Tyler Welcomes Third Child & She Has An Adorable Name
Finally, a bright spot in an otherwise tumultuous weekend. On Sunday, actress Liv Tyler welcomed her third child with fiancé Dan Gardner. Tyler shared the news via a black-and-white Instagram shot of the newborn with Gardner, and announced their daughter's name at the same time. "Our beautiful baby girl is here!!!!" Tyler wrote, before revealing the baby's name. "Lula Rose Gardner, we are sooooo happy... Heart exploding with love."
Gardner posted the same picture, with a sweet message of his own:
Our gorgeous baby girl has arrived, 'Lula Rose Gardner,' unbelievably beautiful, healthy and thank goodness she looks like her Momma !!!! Truly blessed.
This is Gardner and Tyler's second child together, as the pair welcomed son Sailor Gene back in February 2015. Sailor and Lula have two older siblings from their parents' previous marriages, too — 11-year-old Milo (born during Tyler's marriage to Royston Langdon) and eight-year-old Grey (from Gardner's relationship with Davinia Taylor). Tyler announced that she was expecting a fourth addition to the family in January, when she posted an Instagram picture of her baby bump, captioned, "Oh my goodness it seems the stork is visiting us again!!!! I am growing another little Tyler Gardner in my belly."
The Leftovers actress has been busy producing the upcoming horror movie Wildling, in which she also plays a central role alongside actress Bel Powley. Tyler has also kept busy as a Belstaff brand ambassador and creative contributor in London, where she collaborates on designs, plans events, or works on certain collections.
Luckily for fans, Tyler has also posted many pictures of her growing family on social media: On Instagram, snapshots of her baby bump, three sons, and husband are plentiful.
With Tyler's two recent pregnancies happening in quick succession, her wedding plans have been put on the back burner for a while. "We kinda talk about it, but we have a lot on our plate right now," Tyler told E! News in February. "I feel like I've been pregnant forever. I always wanted to have a big family. I'm very excited."
As for her very full plate lately? Tyler told E! News that she combated with the stress with gratitude:
Every day I'm like, 'Oh my, God!' But then I stop and take a deep breath and just focus on gratitude and how grateful I am for all the opportunities that I have. I always say this little mantra to myself that the Universe only gives you what you can handle, so then I say thank you for giving me so much because I can handle it.
While a new baby will certainly keep Tyler and Gardner busy, they sound overjoyed with the arrival of little Lula Rose. Here's to wishing their expanding family all the best!