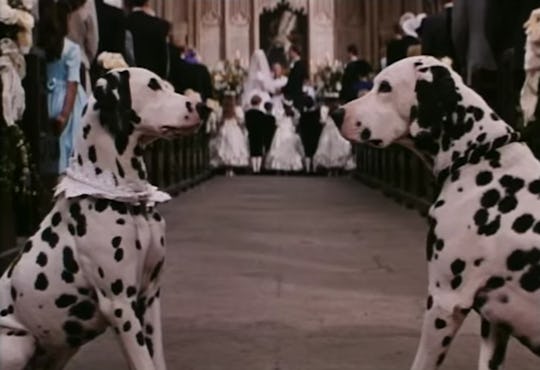 Walt Disney Pictures
Get Ready, Because '101 Dalmatians' Is Coming To Netflix In June
Everyone loves a brand new Netflix original, but sometimes it can be just as exciting for a throwback film and/or show to make its way to the streaming platform. Not only does that allow you to revisit something you loved years ago, but it gives you the opportunity to show it to your kids for the very first time. Romper can exclusively tease that the live action 101 Dalmatians is coming to Netflix in June, and it's the perfect movie to watch with your little ones! The full list of titles coming to Netflix in June will be announced on May 23.
Released in 1996, the film stars Jeff Daniels as Roger and Joely Richardson as Anita, two London residents brought together by their beloved Dalmatians, Pongo and Perdy. Unfortunately, their domestic bliss is soon disturbed by Anita's boss, Cruella De Vil (Glenn Close serving one of her most iconically campy performances), who wants to get her hands on the puppies Pongo and Perdy are expecting so that she can turn them into a coat. She's aided in that quest by thieves Jasper and Horace, who are played by Hugh Laurie and Mark Williams (a.k.a. Dr. House and Mr. Weasley).
A remake of the 1961 animated film of the same name, the live action version shares its charm but boasts its own benefits — like oodles and oodles of adorable, real-life puppies.
There were some notable changes and tweaks when the animated movie was adapted to live action, though many of them were ultimately superficial. Instead of working as a songwriter, the now-American Roger designed video games. That opened the door for merchandising tie-ins and also allowed the film to feature some of the original animation as a nice nod to the source material. Roger's career change doesn't age very well when watching the movie from a modern perspective, but it does increase the nostalgia. Ah, the 90s!
The remake also shifted the point of view of the film from the dogs to the humans. In the animated movie, Pongo provided plenty of voiceover to explain his feelings and motivations; he and Perdita were also capable of conversation, though their human caretakers didn't understand them. It's a little easier to pass off talking dogs in a cartoon, so the 1996 version decided to do things differently. But, that didn't mean the pups weren't just as expressive; I don't know if it's possible for a Dalmatian to be considered a good actor, but this movie certainly makes a case for it.
If the charms of rudimentary 90s video games don't work on you and you need more than an endless waterfall of puppies to enjoy a film (though, do you really need more than that?), then there's Close's Cruella to look forward to. Cruella is one of Disney's most memorable villains, and Close plays her with gusto. She doesn't hold back even a little as she chases after dogs, cackles evilly every chance she gets, and debuts one incredible black-and-white outfit after another. Close revealed to Vanity Fair that she got to keep all of those amazing looks, though she eventually donated them to Indiana University. It's a fantastic performance that will delight parents as much as kids. If Close's Cruella doesn't scare you, no evil thing will.
It's also worth noting that a sequel followed in 2002 called 102 Dalmatians. It saw a seemingly-reformed Cruella emerge from prison and quickly prove that she hadn't learned anything at all. She gave in to her obsession with fur and went after a new crew of puppies, though of course she was foiled yet again. There's no sign that the sequel will be coming to Netflix (at least not yet), but you can enjoy the first film as soon as May gives way to June. There's so much fun to be found in 101 Dalmatians that you're going to want to watch it more than once, and so will your kids!