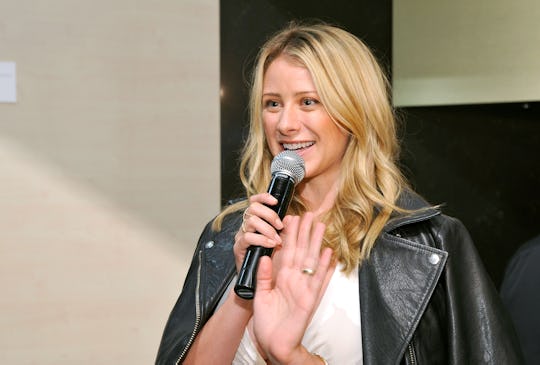 John Sciulli/Getty Images Entertainment/Getty Images
These Celebs Are Speaking Out About Mental Health
Lo Bosworth was pretty busy throughout 2016. She launched her very own business called Love Wellness, a natural feminine hygiene line, and continued to work on her blog and YouTube channel. From the outside, everything seemed to be going really well for the 30-year-old entrepreneur. That's why it came as a surprise to many of her fans when she posted a blog recently revealing she struggled with depression and anxiety during 2016. Bosworth's raw, honest account of her depression struggles is so important for the dialogue surrounding mental health — and she's not the only one helping to break the stigma, either.
Bosworth revealed that her own struggle with depression and anxiety came as a result of a severe vitamin deficiency. "I started feeling very off in the fall of '15," she wrote in her blog post. "Racing mind, impulsive behavior, insomnia. That all developed into a feeling of anxiety that lasted for almost 2 months without any relief. I mean, can you imagine having a 60 day long panic attack? I can now – I lived it."
Bosworth continued,
2016 arrives, and so does the therapy and the medication. I feel okay for moments of time, and then plunge back into the darkness again and again. The anti-depressant cycle is a vicious one – especially if you don't actually require one, but that moment of enlightenment won't arrive for another 9 months. Up and down, up and down. Tears, moments of extreme highs, confusion about why you don't feel completely back on your feet after the standard 4-6 weeks of allowing the meds to "kick in". Making changes and adjustments to medications more than 4 times. Exercise helps, my relationship helps, my family helps. But, the underlying, creeping feeling that there may not be a silver bullet to my problems, and that this state of disarray may be the new "me" keeps me feeling stagnant. I wouldn't wish my 2016 on my worst enemy.
Bosworth added that, by September last year, and following a "complex blood test," doctors realized she was suffering from "severe deficiencies of Vitamins B12 and Vitamin D" which, if untreated, could cause "depression, anxiety, fatigue, headaches, dizziness ... [and] brain damage."
Bosworth's confession was received with a flurry of supportive messages. Commenters left tips, shared their own struggles with similar conditions, and lent support — proving that the more people open up, the more likely it is that the subject will become less taboo.
Model and Lip Sync Battle co-host Chrissy Teigen recently opened up about her own struggle with postpartum depression following the birth of her first child as well. Like Bosworth, Teigen penned a candid essay about her experience with the illness, and like Bosworth, Teigen also illuminated facts about depression and anxiety that many people might not have known. In Teigen's essay, which was published in Glamour, she reminded everyone that 1 in 9 women suffer from postpartum depression. That's extremely common, yet many women still feel ashamed when they are diagnosed with the disease.
Bosworth and Teigen aren't the only ones working towards normalizing discussions surrounding mental health in our society. Demi Lovato too has become an outspoken advocate for mental health after being diagnosed with bipolar disorder in 2011. She frequently tweets, talks, and even sings about her experience, and she encourages her fans to do the same. Lovato's fan base skews younger as well, which means she has the opportunity to build positive discussions about the otherwise taboo topic early on and to show kids and teenagers that it's okay to deal with a mental health issue.
Singer-songwriter Lady Gaga has spoken about her depression struggles as well. In a 2014 interview, she told Vanity Fair that she became very depressed at the end of 2013, but despite her hardships with the mental illness, she reminded everyone that depression, anxiety, and other mental health problems don't define who people are. "Depression doesn't take away your talents," the singer said. "It just makes them harder to find. I learned that my sadness never destroyed what was great about me. You just have to go back to that greatness, find that one little light that's left."
Every time a prominent public figure uses their platform to talk about mental health, it helps break the stigma surrounding the issue, despite the fact that it's undoubtedly scary to open up about a personal struggle on such a public stage. But the more people talk about it, the less scary it will become.
Depression and anxiety are illnesses like any other. We're not embarrassed to admit when we come down with a bad case of the flu, so we shouldn't be embarrassed about our struggles with our mental health either. Bosworth, Teigen, and every other public figure who opens up about their experiences are helping fight that battle, one blog post, interview, and social media photo at a time.