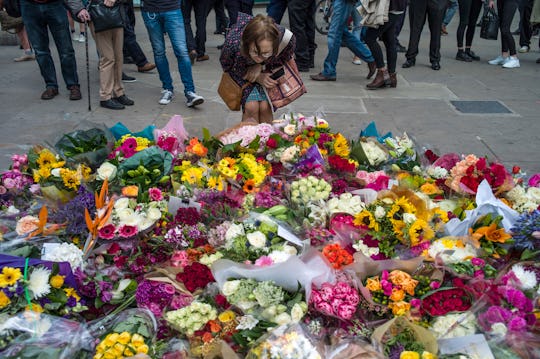 Dan Kitwood/Getty Images News/Getty Images
London Man Tips Restaurant Double After Terror Attack
In the wake of Saturday's tragic terror attack in London, it's hard to find hope in the heartbreak. But many in the city are responding to the attack with defiance, kindness, and the resolve to keep on going. One London man has even gone viral for returning to the restaurant where he experienced the terror attack, and tipping the staff there double.
Richard Angell was out with friends at Arabica Bar & Kitchen near London Bridge, enjoying some food and drinks when, he told Buzzfeed News, "suddenly we were aware of security saying lock the door and duck and cover." The three attackers came down the street as Angell and the rest of Arabica's patrons barricaded themselves in the restaurant, witnessing the violence outside, as well as the heroic ways in which security forces and ordinary Londoners protected one another.
The patrons and staff stayed in the restaurant for about half an hour before police led them away from the scene. Naturally, in all the chaos, paying the bill was the last thing many diners were thinking about. But once Angell had a chance to recover from the shock and horror of it all, he remembered the brave staff of the restaurant. He wrote, in an article for The Times of London,
There are small things all of us can do to help London rebuild. I for one will be going back to pay my bill, and more importantly, double the tip of the incredible staff who looked out for our welfare when their own welfare was so palpably at risk. Arabica Bar and Kitchen is no global chain and I know how London's waiters live off their tips as much as their wages. It literally is the least we can do. I shall be going back with more friends very soon – there is an unfinished 'duck and date' dish with my name on it.
And like many Londoners, Angell is determined not to respond to the attack with anger or fear, but with a celebration of life, much like the residents of Manchester after the deadly attack at the Ariana Grande concert in May.
Angell said, in an interview with the BBC,
If me having a gin and tonic with my friends, flirting with handsome men, hanging out with brilliant women is what offends these people so much, I'm going to do it more, not less, because that's what makes London so great.
Cheers to Angell, and to all who respond to terrorism with a strengthened resolve to keep on living and loving.