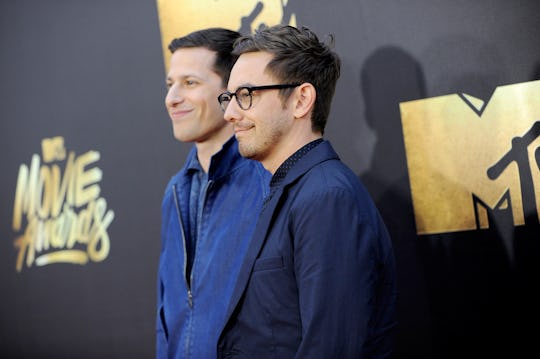 Emma McIntyre/Getty Images Entertainment/Getty Images
Lonely Island's Tribute To Will Smith At The MTV Movie Awards Was A Walk Down Memory Lane
Kevin Hart introduced the Generation Award as the MTV Movie Award's highest honor. But there was no better tribute than Lonely Island's tribute to Will Smith on Sunday night. It was the MTV Movie Awards, so there was a long video with tons of Will Smith movie highlights proving that he's been in pretty much every movie you've ever seen, but first the Lonely Island got to celebrate the other side of Smith: the goofy, funny king of '90s pop rap. It's tough to get the "old ass dude award," as Smith put it in his acceptance speech, but his songs are nothing but young and well, fresh, and only Andy Samberg and crew could give them the treatment they deserved. The fake boy band started from the beginning of Smith's musical career — back when he was still with DJ Jazzy Jeff — decked out in overalls and brightly printed shirts.
The band performed "Parents Just Don't Understand," the Fresh Prince of Bel Air theme song, "Summertime," and even went into "Men in Black," before finishing with "Gettin' Jiggy Wit It." All the while, the camera panned to Will Smith and sons Jaden and Trey, who were all smiles as the Lonely Island brought down the house. No one is too cool to love Will Smith songs. No one, not even Cara Delevingne
Keeping up the good humor, Smith joked about how long his career has been and how he's grown. "I released my first record when I was 17, I'm 47 years old now," Smith said. "This June marks thirty years in this business for me." He continued with a nod to his headliners, "I mean, The Lonely Island said it, parents just don't understand, and I'm sitting with my kids sometimes like, I don't get it!"
He joked about being in Brooklyn recently and coming face to face with a kid who had no idea who he was, but knew he was famous. On that note, Smith said, the Golden Popcorn was some much needed recognition. Then things got a little serious. "I'm dedicated to being a light in this world. I want to help people. I want to be a light. I want to play roles that have dignity," he said. The musician and actor added that he's also dedicated to "light and to love." Those qualities are more Lonely Island's style, and if you watch (and probably re-watch) their performance, you'll be filled with nothing but smiles and love for "that old dude."