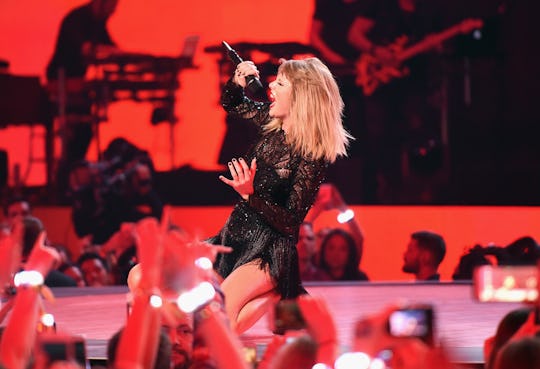 Kevin Winter/Getty Images Entertainment/Getty Images
The Most Telling Lyrics From Taylor Swift's "Look What You Made Me Do"
It's only been out for 30 minutes, but Taylor Swift's new single is already a top trending topic on Twitter, and is making its way to the top of the charts. And truly, her new album's first single "Look What You Made Me Do" is a high-key jam, and Swift is clearly back with a vengeance. In fact, there are several "Look What You Made Me Do" lyrics that prove that the old Taylor is no longer.
In her place? An unapologetic, fierce, and feisty Swift who is ready to own her Reputation, snake comparisons and all.
Clearly, Swift's social media presence has been revamped to go along with her new album, and everything she's posted in the past week has been part of a strategic marketing strategy to emphasize the theme of her new album, Reputation.
Specifically, the line from the new single, "I'm sorry, the old Taylor can't come to the phone right now," seems to be setting the tone for all of Swift's upcoming new music. So much so that Swift has made it her new Twitter bio, replacing the long-standing "born in 1989," that went along with her previous album and tour.
Even the lyric video seems to show a darker era of Taylor Swift, one where she no longer hides from the rumors circulating her, but instead runs toward them, with a pretty banging counterblow.
The song opens with Swift telling someone that she's had it with their games. "I don't like your little games," she begins, continuing, "don't like your tilted stage, the role you made me play of the fool, no I don't like that." Whether Swift is addressing the media in general, her (way too many) haters, or a specific rival (Kim Kardashian, perhaps?) this opening stanza seems to imply that she is over playing the role of the victim.
In fact, "Look What You Made Me Do," might actually be Swift announcing her new self to the world. "Honey, I rose up from the dead," she sings melodically, reminding us all how she does it "all the time."
Another lyric, "Maybe I got mine but you'll all get yours," also points to a more kick*ss Swift, who is done feeling sorry for how the media portrays her. And of course the chorus, a repeating stanza of "oh, look what you made me do," is catchy as heck.
But it's the bridge where Swift really gets going. "I don't trust nobody and nobody trusts me," she belts, "I'll be the actress starring in your bad dreams." A dark, edgy, and unmerciful Taylor Swift is here.
Why? "The old Taylor is dead."