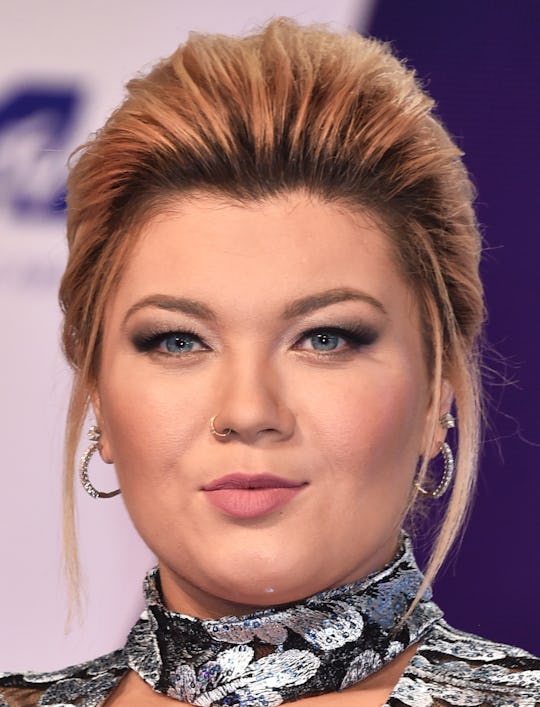 Alberto E. Rodriguez/Getty Images Entertainment/Getty Images
Looks Like Amber Portwood May Have Just Revealed The Name She's Chosen For Baby No. 2
Everyone loves a good mystery, it seems. Especially when it comes to babies. Whether it be the sex, name, or due date, people love all the elements of surprise associated with babies, but especially so with celeb babies. Well, now it looks like Teen Mom OG star, Amber Portwood, may have revealed the name of her second child, and it's really exciting for her fans.
In case you missed it, Portwood is pregnant with her second child, according to E! News, and her first with her boyfriend Andrew Glennon. Portwood also has a 9-year-old daughter, Leah, from her relationship with Gary Shirley, which was how she became a part of two MTV reality series, 16 & Pregnant and Teen Mom OG.
Fans were thrilled to learn Portwood's pregnancy news and have been waiting eagerly for her to share a few extra details about her baby-to-be. And thanks to a little tweet, fans may know a bit more about Portwood's bundle of joy. After Amber's brother, Shawn Portwood, took to Twitter to let his sister know that he had made her a special gift, the secrets started coming out.
"I finally completed your gift," her brother wrote on Twitter. "However I'm not going to show it to you so you'll see it tomorrow. I will send you this though." And Portwood replied. "Awe Bubby I can't wait!! I'm sure little James will love it!" So yes, it seems as though James is the name, and babies are the game.
Truly, Portwood's pregnancy, which she announced in early November, is somewhat of a surprise. As In Touch reported, Portwood had explained prior to the news "that it was unlikely that another child was in her future, because of her prescription medications for her borderline personality disorder and bipolar disorder."
Portwood's pregnancy news is certainly exciting on multiple levels, and so is her romance with her boyfriend. In fact, he made his debut appearance on Teen Mom OG at the start of the year, with Portwood explaining how they met on set of Marriage Boot Camp (which she appeared on with her her ex-fiancé, Matt Baier), and eventually fell in love. According to People, Portwood told producers at MTV:
When I did Boot Camp with Matt, he ran the lights or whatever … he was pretty much saying he related to my story. He wasn't trying to f— with me. He sounded very sweet. I want to meet him first off-camera, away from everybody so I can get a feel for him, and kind of see if it's anything I want to pursue. You never know, we might not ever have anything in common and just be like, "Okay, it was a good ride for a couple of days."
Eventually, the two got together, and are now expecting their first child as a couple. However, Portwood's daughter, Leah, was also a pretty big plot point in the most recent episode of Teen Mom OG, as Leah's father and Portwood's ex, Gary Shirley, expressed his concern that she wasn't around for Leah as much as she should be.
"Amber's not there, she's a come-and-go kind of mom," Shirley told his wife, Kristina, according to People. "There's a pattern here, it's not a one-year pattern, it's a four to a five-year pattern." Unfortunately, it appeared as though Portwood had been going through some hard times after her breakup from Baier, and that she didn't want Leah to see her depressed, according to the publication. Speaking to Shirley about how she was having a lot of bad days, Portwood explained, according to People, "Leah can brighten it but she's so intuitive with things. I don't want her to see me like this."
Hopefully Portwood will be able to spend more time with Leah as she prepares to welcome her second child — a little guy who may be named James — to the world.
Check out Romper's new video series, Romper's Doula Diaries:
Watch full episodes of Romper's Doula Diaries on Facebook Watch.