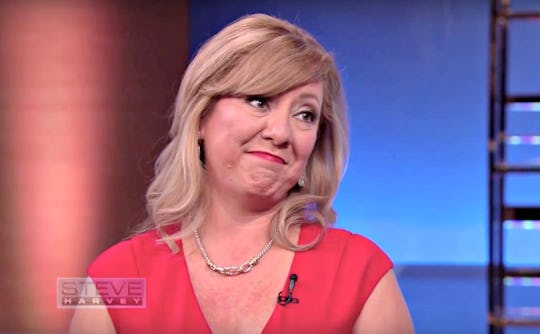 The Steve Harvy Show/YouTube
Lorena Bobbitt's Steve Harvey Interview Details Her Attempts To Help Women, But People Just Can't Get Over That One Incident
More than 20 years ago, just mentioning the name Lorena Bobbitt would send shivers down the spines of men around the world, after she was arrested for cutting off her abusive husband's penis. For one of the first times since she was found not guilty by reason of temporary insanity, Bobbitt appeared on The Steve Harvey Show this week to talk about life since that headline-making incident. And although she's gone on to found an organization that helps victims of domestic violence, the segment shows some people — specifically those of the XY chromosomal variety — will never be able to get over her past.
After Bobbitt explained she's happily remarried to a man who never questioned the incident, an incredulous Harvey said he wouldn't have been able to let that conversation slide. "We'd have to go through the whole story. I'd need to know what happened, what time was it, how do you feel when men fall asleep," Harvey joked while acting like he was fighting to stay awake. "Because I'm going to be up talking to you. I don't give a damn how late it is. I'm going to stay with it, 4 o'clock in the morning."
Harvey wasn't the only one who had jokes, though. Twitter kind of had a field day with the whole story, too. 
Others were just plain critical.
But not everyone was hating on her.
Who knows whether Bobbitt's paid attention to the Internet chatter in the last 24 hours, but least when it came to Harvey's joke, she wasn't too fazed. On the show, she said she recognizes her story has "humor" to it. But she also stressed that good came out of the situation when she founded Lorena's Red Wagon, an organization that helps "abused women and children through family-oriented activities." One of the main services she provides is getting the necessities to victims who didn't have enough time to pack when they left their home. Bobbitt added, "I wanted to bring home to the children, to the women of domestic abuse."
In terms of how she's personally moved on, Bobbitt and her new husband now have a daughter. She's also repeatedly blocked her ex-husband's attempts to contact her because she wants to surround herself "with positive people" — and it's no big surprise that the guy whose penis you cut off wouldn't be in that group. 
Image: The Steve Harvey Show/YouTube