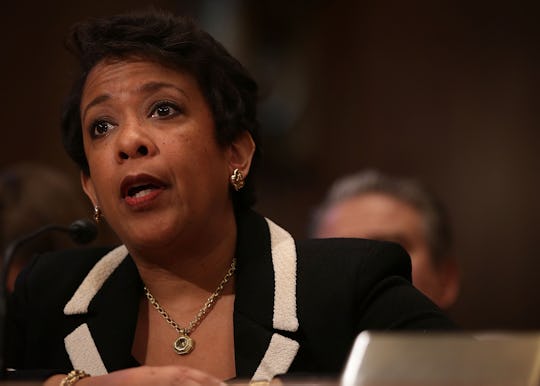 Alex Wong/Getty Images News
Loretta Lynch May Be Antonin Scalia's Supreme Court Replacement & Here's Why
After Supreme Court Justice Antonin Scalia died, speculation swirled about his successor. Republicans expressed their desire to avoid an appointment until a new president is elected, and experts questioned whether President Barack Obama could successfully make a nomination. Though it's unclear how Obama will proceed, one blogger suggested that Attorney General Loretta Lynch may replace Antonin Scalia on the Supreme Court.
Tom Goldstein of SCOTUSblog wrote that Lynch is "most likely" to be selected as a candidate, according to NBC News. Already, Senate Majority Leader Mitch McConnell, Sen. Ted Cruz, and Sen. Marco Rubio have pushed for the next president to make the nomination. But, as Goldstein said, Lynch may be one candidate who can force the Republicans' hand and escape the vetting phase relatively unharmed.
Goldstein argued on the SCOTUSblog that, as a career prosecutor, Lynch isn't easily characterized as "excessively liberal." At 56, she's within the ideal age range for a Supreme Court nominee; the fact that she was recently evaluated to be attorney general makes it difficult for anyone to question her qualifications. Ultimately, Goldstein determined that attempts to block Lynch from the Supreme Court would probably look bad for the Republicans:
I think the administration would relish the prospect of Republicans either refusing to give Lynch a vote or seeming to treat her unfairly in the confirmation process. Either eventuality would motivate both black and women voters.
Goldstein initially believed Ninth Circuit Judge Paul Watford would be the top candidate, but he's since revised his opinion, believing that Lynch is an easier sell to Republicans. Even if Lynch is selected, Goldstein wrote that it's unlikely she'll have an easy path to the Supreme Court:
I think the administration is likely to nominate her, that the Senate will initially refuse to proceed with the nomination but ultimately accede after delaying the process significantly, and then vote her down on party lines. At that point, Republicans will slow-walk a follow-up nominee and claim that it is too close to the election to act on the candidate.
Though the White House hasn't released any information on their top contenders, Obama is already determining how to move forward, according to CNN. Over the weekend, the president reportedly participated in conference calls and started working on a shortlist. He may opt for a "sacrificial lamb" option, sending in a nominee who has no shot of making it through the vetting process in an attempt to galvanize voters. He's more likely to choose someone who's already been evaluated, according to CNN contributor David Axelrod:
I suspect he is going to choose from that pool of judges who have already been confirmed by the Senate -- some of them unanimously -- to make the case that they were perfectly fine the last time you guys examined them.
Scalia died Saturday at the age of 79, The New York Times reported. Initial analysis suggested he passed away of natural causes while on a trip to west Texas.